Reverse Midas: Everything Saakashvili touches turns to rot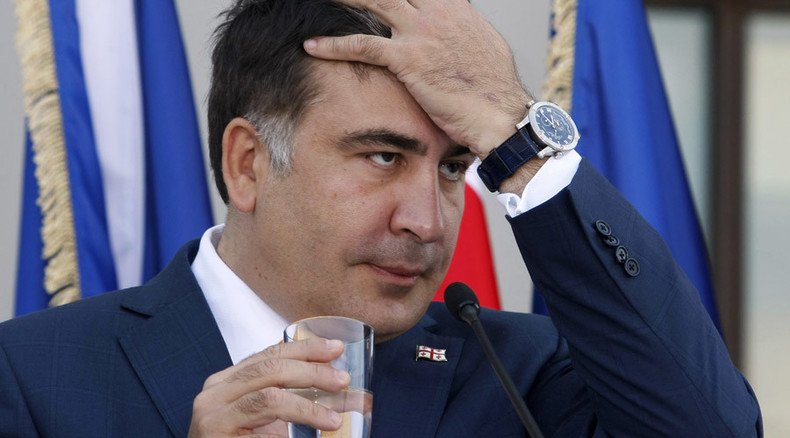 With the Midas touch, everything you touch turns to gold. With the Saakashvili touch, you destroy everything you touch. The fortunes of the former Georgian President, currently regional governor of Odessa, and fanatical friend of 'Uncle Sam' continue to amuse.
It's pretty commonly accepted that Midas was a great guy. According to Greek mythology, everything he laid his finger on turned to gold. Who wouldn't want to have Midas around? Especially at a time when the precious metal sells for $36,792 a kilo.
The opposite of the Midas touch is sometimes known as the Sidam touch. This is achieved by reversing the letters in his name. However, it hasn't really caught on, for various reasons. Mostly because it sounds a bit naff. The Saakashvili touch could be a 2015 alternative, with lots of contemporary Hipster associations thrown in.
America has nurtured the careers of many foreign leaders, especially those dedicated to promoting US interests in their homelands. They've ranged from the sublime, South Korea's Syngman Rhee for example or West Germany's Konrad Adenauer, to the shambolic, like Iranian Shah Mohammad Pahlavi. There's also been the downright criminal - think Augusto Pinochet of Chile or Panama's Manuel Noriega.
Even the most incompetent of them can boast at least one major success. Something to justify their usefulness to Washington. However, Saakashvili has zero notable accomplishments to speak of. Despite this, the West clings on to the hope that one day the former Georgian president can redeem himself. To that end, after his complete failure in Georgia, they've even offered him a second chance to fail in Ukraine. Tbilisi's Jimmy Porter has become Odessa's Archie Rice.
Ever tried. Ever failed.
Saakashvili is a master of PR, or perhaps he has access to a masterful PR agency. He's had the New York Times rebrand him as a Brooklyn hipster before trying to spread the affliction to Odessa, where his fans applauded.
Also, only last week The Guardian allowed Natalia Antelava to write a 5,000 word love letter to her hero. A billet doux so destitute of vision that even Ray Charles could have spotted the holes from the next room.
The Western media is loath to truthfully analyze Saakashvili's track record. Especially those on the Russia beat who seem to empathize with plucky losers, perhaps seeing something of themselves in their subjects.
Let's be clear about Saakashvili. This is a man who, in 2008, started a war with Russia. One he believed his former country of 4.3 million could win. It was the military equivalent of putting Dinamo Tbilisi up against Real Madrid and fancying their chances. Of course, Georgia's forces were quickly smashed and as a consequence the country finally lost any chance of ever regaining its former territories in Abkhazia and South Ossetia.
The following year, in 2009, violent protests against his regime erupted in Tbilisi. As Saakashvili's rule became more totalitarian, a graphic video showing inmates being sodomized and beaten in Gldani prison sparked more demonstrations.
In 2012, with Georgia's economy teetering, Saakashvili's party lost a parliamentary election to Bidzina Ivanishvili's Georgian Dream movement, achieved despite Saakashvili's harassment of his opponent. Saakashvili had illegally stripped Ivanishvili of his Georgian citizenship in 2011. This was right after the latter had announced his intention to challenge him. The following year, Saakashvili's courts attempted to fine Ivanishvili $90 million for allegedly breaching party funding rules. At that time, Georgia's GDP per capita was $2,919. Saakashvili left Georgia for the USA shortly after his defeat.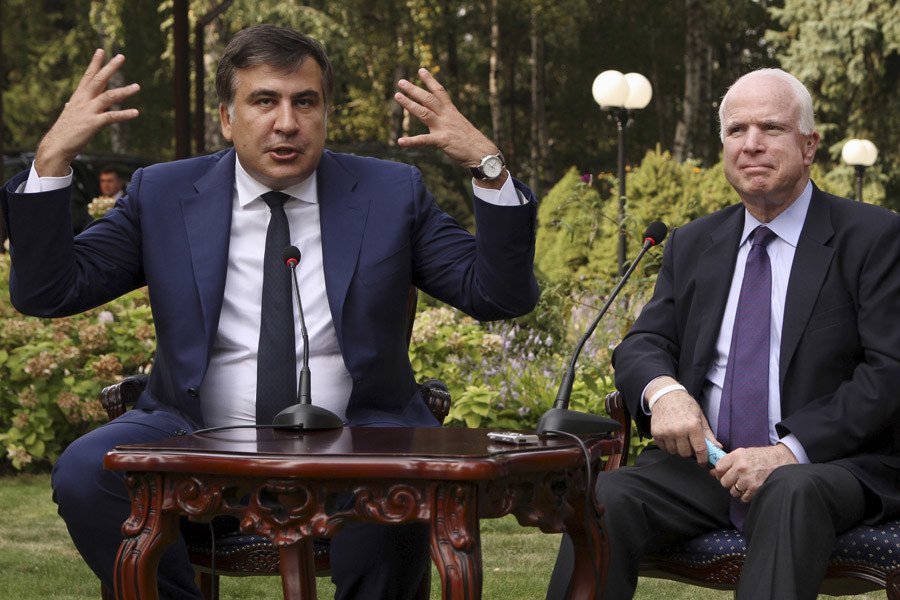 No matter. Try again.
In 2014, Georgian prosecutors filed criminal charges against Saakashvili for a range of offences. They included "exceeding official powers" during earlier protests in 2007 and spending $11,000 of public money on Botox injections. Saakashvili's extravagance was well known in Tbilisi, which he ran like a personal fiefdom. He flew in - on the Presidential jet no less - a masseuse from Berlin who specialized in biting her clients. Furthermore, it appears that the massage expert didn't even bother with the formalities of immigration as her video blog is the only evidence of the visit.
The former Georgian President had re-surfaced in Ukraine where he enthusiastically supported the Maidan demonstrations. Despite his brutal intolerance of such gatherings in Georgia and his abuse of power there, the irony was completely lost on the Western media and pro-Europe/NATO activists in Ukraine.
Later, Ukraine's President Petro Poroshenko began to involve him in 'reforms' in Kiev, where Saakashvili did a lot of talking about the idea. Out of the blue, in May this year, the billionaire oligarch suddenly appointed him Governor of Odessa, the southern port-city. At the same time, Saakashvili became a Ukrainian citizen, relinquishing his Georgian passport. Thus, only two years after leaving office in Tbilisi, he had completely turned his back on his homeland.
Since then, Saakashvili has done a lot of pontificating, staged a few photo opportunities and hung out with some adoring Western journalists. In July, the London Independent carried a two-part eulogy which merits mention as a classic example of how to soft-soap and then forget to rinse.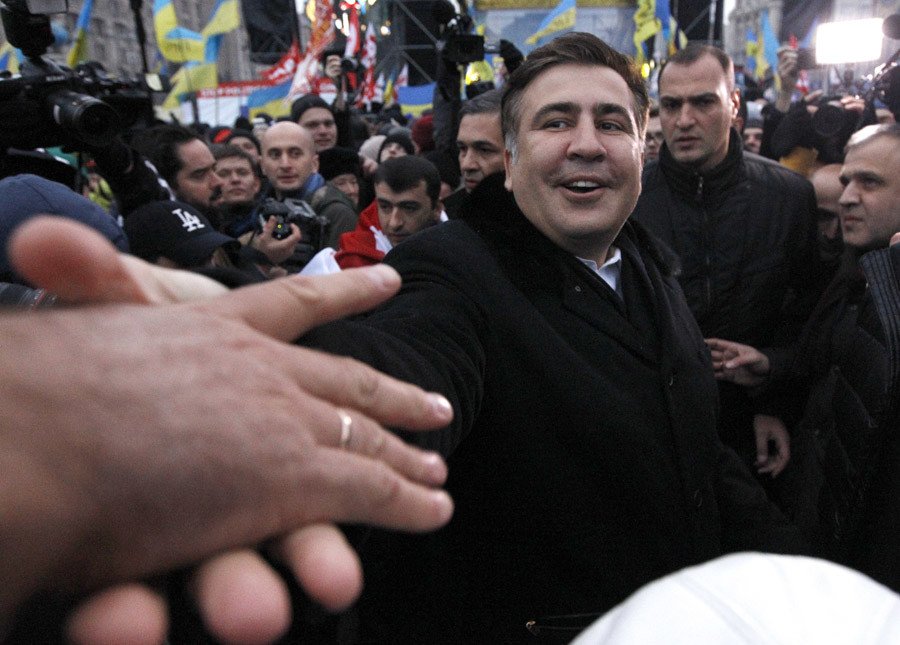 Fail again. Fail better.
While Saakashvili has had no problem convincing foreign liberal arts graduates, masquerading as journalists, that he's the real deal, he's failed to persuade local voters of his brilliance. Last week, Sasha Borovik, his candidate for mayor of Odessa was trounced by the incumbent Gennadiy Trukhanov.
Incidentally, Trukhanov opposed the Maidan project from the outset.
Then, just as Saakashvili was probably feeling a bit vulnerable, Fatou Bensouda, a prosecutor at the International Criminal Court, requested authorization to investigate his role in alleged crimes committed during the ill-fated 2008 assault on South Ossetia. This was the harebrained intervention that pre-empted the subsequent, brief, Russian-Georgian war. Saakashvili launched an attack on the breakaway province, killing a number of peacekeepers in the process. Russia stepped in to defend South Ossetia, quickly defeating Georgian forces.
Surely, Saakashvili believed things couldn't get any worse? Remarkably, they did. A Ukrainian website leaked a tape in which a Saakashvili 'sound-alike' calls for a violent coup in his homeland. Needless to say, Georgia's authorities aren't amused. In the recording, a man with a "voice strongly resembling Georgia's ex-leader is heard advising such a course (an uprising) to Nika Gvaramia, the head of Rustavi 2, one of Georgia's biggest TV stations, and opposition leader Giorgi Bokeria," RT News reported.
Back in September, Saakashvili admitted that it will take at least 15 years to restore Ukraine's economy to pre-Maidan levels. That's the same Maidan he so enthusiastically supported. Saakashvili compared the Ukraine that his friends created to Gabon, qualifying it by saying "with due respect to Africa." The reaction in Libreville must have been amusing. In 2013, Gabon's GDP per capita was $10,067 compared to Ukraine's $3,082. Remember, that's before the Maidan coup collapsed the Ukrainian economy.
The question now is where to next for Saakashvili? His Ukraine gambit appears to have failed and he is a wanted criminal in Georgia. Indeed, there's even talk of an appointment at The Hague. Saakashvili's best bet is probably to scuttle off back to Brooklyn, his personal hipster Elba. He's sure to attract the odd fawning journalist willing to take him down memory lane to a time when Mikhail Saakashvili mattered.
Saakashvili, the reverse Midas. Everything he touches turns to rot.
The statements, views and opinions expressed in this column are solely those of the author and do not necessarily represent those of RT.
You can share this story on social media: