Why did Georgia's ex-leader Saakashvili threaten to jump off roof in Kiev?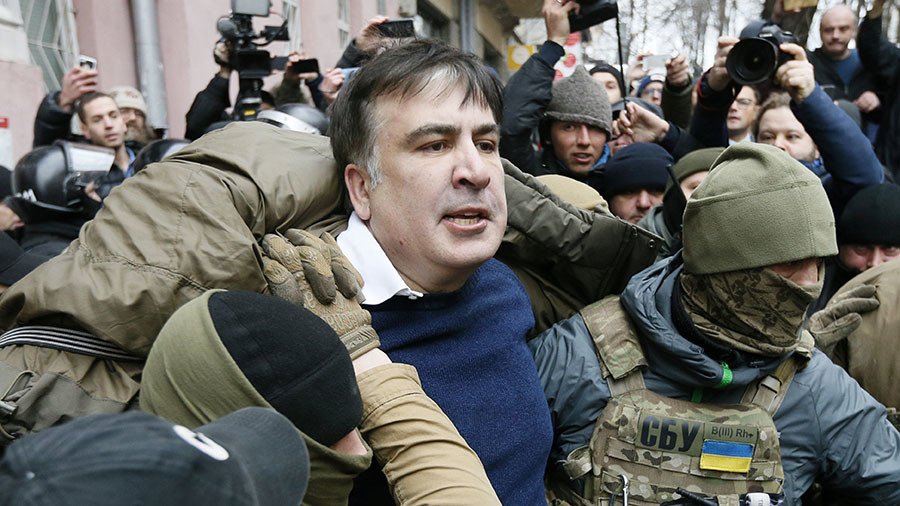 It has not been one of the best days in the turbulent career of Georgia's former President Mikhail Saakashvili, renowned for chewing his tie on TV. Today he threatened to jump off a roof in Kiev as Ukrainian police searched his apartment, Ukrainian media say.
Law enforcement officials broke the door to Saakashvili's apartment in central Kiev on Tuesday morning. Security forces searched the flat, while the former president of Georgia and ex-governor of Ukraine's Odessa Region confined himself to the roof of the building.
He threatened to jump off the roof, LB.ua news portal reported, while emergency crews were seen arriving at the scene carrying a ladder.
"They want to kidnap me because I've risen up to protect the Ukrainian people," he told the crowds that gathered in the street. "They wanted to do it by stealth, but this did not work out."
Eventually, Saakashvili was taken away from the roof by security forces, NewsOne said.
Saakashvili is to be questioned on suspicions of assisting criminals and concealing their criminal activities, the Ukrainian Security Service (SBU) said in a statement. The offense can punished with up to five years behind bars.
The car transporting the detained politician was reportedly blocked on the way to the detention facility, local media reported. Saakashvili's supporters continue to block the streets near his house in the center of Kiev. One man was reportedly injured in scuffles with police.
In 2015, Saakashvili gave up his Georgian citizenship as he accepted an offer to become the governor of Odessa Region at the personal behest of President Petro Poroshenko. But this did not last long with Saakashvili resigning in November 2016 and Poroshenko personally annulling the politician's new passport.
READ MORE: Ukraine police open criminal case after former Georgian leader Saakashvili breaks through border
Since then the former president of Georgia organized anti-government rallies in Ukraine which demanded Poroshenko impeached.
His native Georgia is also demanding his extradition on charges of corruption.
The awkward moment when the then-Georgian leader chewed his tie before an interview with the BBC on the last day of the war in South Ossetia in August, 2008.


You can share this story on social media: