Thousands-strong protests sweep Asian capitals after Trump's Jerusalem decision (PHOTOS)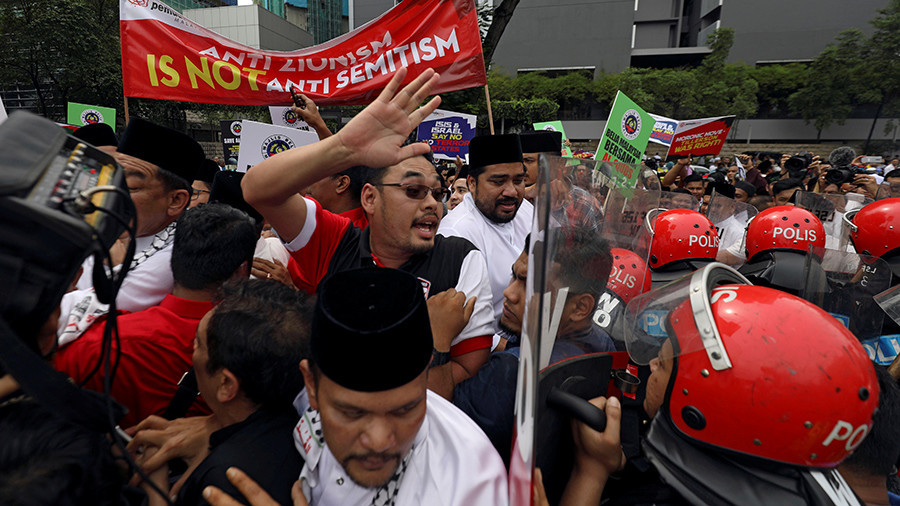 Following Trump's decision to recognize Jerusalem as Israel's capital, thousands of protesters in Muslim-majority Asian nations flocked to the streets, shouting anti-American slogans and carrying effigies of Trump.
Thousands of people in Malaysia and Indonesia, the two largest Muslim-majority countries in Southeast Asia, took to the streets on Friday to protest Donald Trump's Jerusalem announcement.
In Kuala Lumpur, more than 1,000 people, led by Sports Minister Khairy Jamaluddin, descended on central area of the capital, demanding that Trump undo the decision, according to Straits Times.
The protesters, chanting "Long Live Palestine! Long Live Islam!" marched down one of Kuala Lumpur's busiest roads, disrupting traffic.
Protesters, some shouting anti-American slogans, gathered in front of the US Embassy in Kuala Lumpur. Jamaluddin addressed Trump from a podium after handing a protest note to an embassy official, saying "Mr President, this is an illegal announcement. Jerusalem is an occupied territory. You must not even set foot in Jerusalem... The world will rise against the United States."
In Indonesia, the world's most populous Muslim country, hundreds of protesters shouted "Go to hell Israel!" and called on Trump to stop "blind support" for the Jewish state. Both Malaysia and Indonesia have no diplomatic ties with Israel and are strong supporters of Palestinians.
The protesters marched from mosques to the heavily guarded US Embassy in Jakarta, waving Palestinian and Indonesian flags. They burned tires near the embassy, and photos of Trump and US and Israeli flags in a similar rally in the cities of Banda Aceh and Makassar. Another protest was held in Surabaya, Indonesia's second largest city.
The US Embassy in Jakarta advised American citizens to stay away from demonstrations and said its consulate in Surabaya suspended public services on Friday.
About 3,000 people rallied in Bangladesh's capital, Dhaka. They gathered in front of the city's main mosque.
Hundreds demonstrated in Pakistan's major cities. Protesters in Lahore and Peshawar chanted "Down with America, down with Israel and no to Israel occupation."
Protests in Lahore like elsewhere across Pakistan condemning US President Donald Trump's decision to recognise Jerusalem as capital of Israel. pic.twitter.com/S98ezhZUHu

— The Nation (@The_Nation) December 8, 2017
Hundreds of Muslims also held rallies in Indian-controlled Kashmir, chanting "Down with America" and "Down with Israel." in the main city of Srinagar and other cities. They burned US and Israeli flags, prompting the authorities to impose a curfew in old parts of the main city of Srinagar, and disallowed Friday prayers at the city's main mosque for fear protests could turn violent.
You can share this story on social media: