Protesters break into Greek labor ministry, clash with riot police (VIDEO)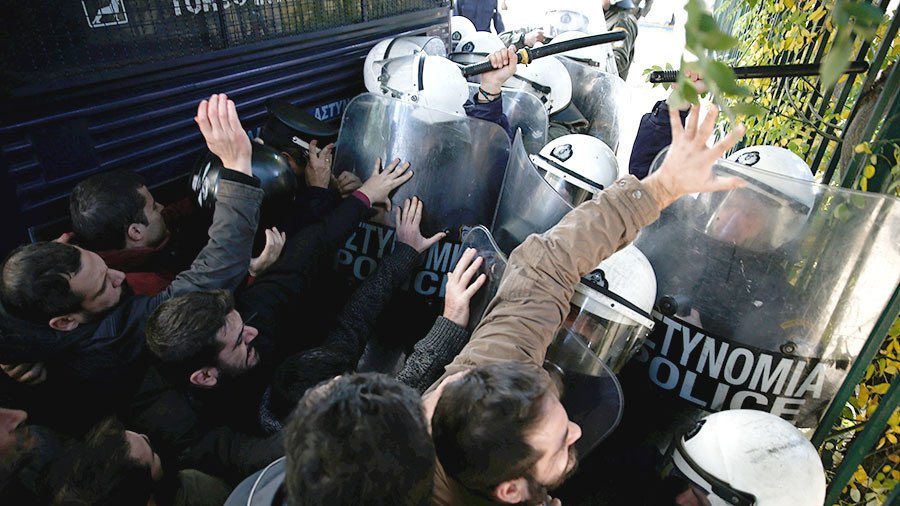 Crowds of angry protesters in the Greek capital of Athens have forced their way into the country's labor ministry, smashing security barriers and clashing with police. Demonstrators voiced discontent with a number of proposed reforms, including the right to strike.
The shuttered entrance of the ministry in the center of Athens was forced open Tuesday, as a large number of protesters spilled into the government building. Riot police with shields and batons were unable to stop the crowds from storming the property. At least one police officer was injured, according to Ruptly.
The protest was sparked as the government considers enforcing stricter rules on unions and strikes. A legal amendment to toughen strike rules was proposed Monday, but withdrawn later for further consideration. The initial proposal said a strike would be allowed, but only if more than 50 percent of union members agreed to the move. The protest action was organized by a union controlled by the Greek Communist Party.
"The government has promised to restore labor rights, but at the same time it is weakening the most fundamental tool of collective action, the right to strike," the General Confederation of Greek Labor, the largest union in the country said in a statement, as quoted by AP. The unions have also called for a 24-hour strike against proposed reforms on December 14.
Earlier in the day, demonstrators clashed with police outside the prime minister's office, AP reported. Police fired tear gas after protesters forced their way past a cordon and clashed with officers.
In a separate massive protest Tuesday, residents and officials from several Greek islands demonstrated outside the migration ministry. The protesters demanded the government take measures to reduce the number of migrants and refugees arriving at Lesbos, Chios and Samos.
You can share this story on social media: