Brazilian bank robbers tunnel through sewers in daring heist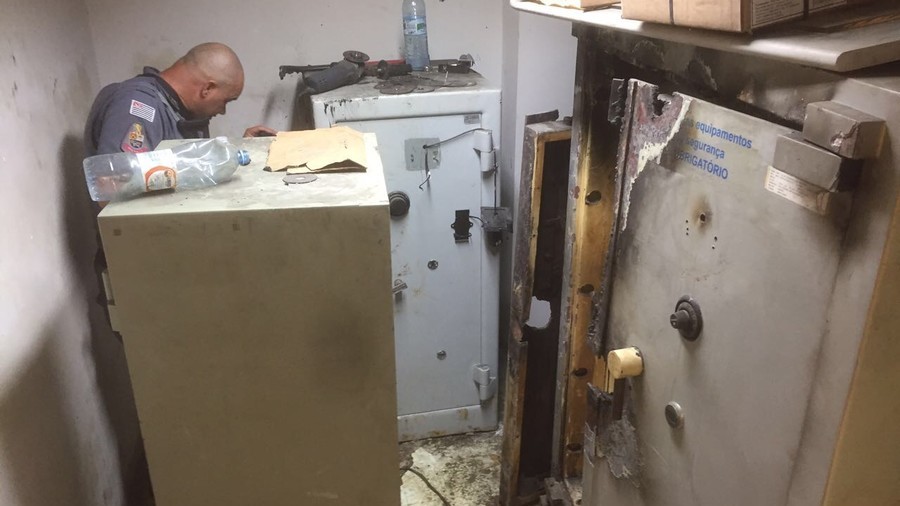 Bank robbers in the Brazilian city of Americana used a sewage network to tunnel into a bank and carry out a daring robbery.
Banco do Brasil's security company went to inspect the branch when it noticed the security cameras had stopped working. When staff arrived at the scene they discovered a massive hole in the floor of the vault room. It's understood criminals had managed to tunnel through and crack open the bank's safes.
READ MORE: Blowtorch criminals set cash alight in bungled ATM robbery (PHOTO)
The robbers even left behind the tools they used in the daring break-in, including angle grinders, crowbars, electric cables, torches, and a transformer.
Brazilian news outlet Globo published photos of the safe room in the aftermath of the burglary. It shows the scorch marked safe, the tunnel leading to the sewer, and the various tools left behind by the burglars.
The bank was not open on Monday because of the damage. Banco do Brasil said it would not be commenting on the case due to the ongoing police investigation. It is not known what valuable goods or cash were stolen.
Police recently foiled an attempted robbery on another Banco do Brasil branch in Sao Paulo. Some 16 people were arrested in what could have been "the biggest bank robbery in the world," according to investigators.
The gang excavated a 500-meter-long tunnel over the course of four months and they were on the brink of breaking into the vault before investigators swooped in and carried out the arrests.