'Bloodthirsty tirade': Russian FM decries US threats to destroy North Korea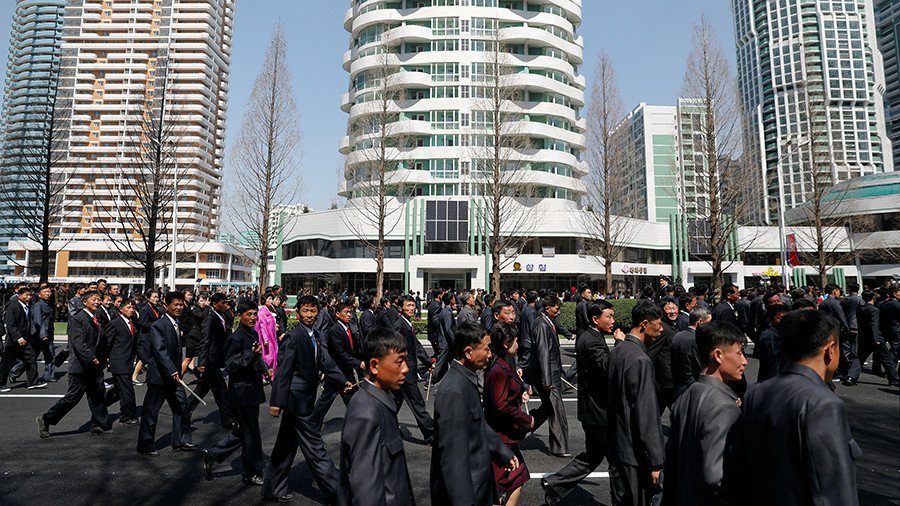 US military action against North Korea would be a big mistake, Sergey Lavrov, Russian Foreign Minister, warned, adding that Washington is itself provoking Pyongyang to make new reckless moves by drills with South Korea and aggressive rhetoric.
"If someone really wants to use force to – as the US representative to the UN put it – destroy North Korea... then I think it's playing with fire and a huge mistake," Lavrov said during a visit to Rome on Friday.
The Russian FM was referring to the comments made by US Ambassador to the UN, Nikki Haley, in the wake of Pyongyang's first missile test in two months on Tuesday, in which it fired rockets that allegedly can reach US mainland. Haley said that "if war comes… the North Korean regime will be utterly destroyed." Lavrov called Haley's speech at the UN Security Council on Wednesday "a really bloodthirsty tirade."
"We will do everything to ensure that it [military conflict] doesn't happen and that the problem is solved using exclusively peaceful and political-diplomatic means," he said. Moscow has been closely working with the US on the North Korean issue, with several meetings being held between the countries' diplomats in the Russian capital and other venues, the FM added.
"Unfortunately, in the last couple of months there has been an impression that there are people in Washington who are trying to provoke Pyongyang to make new reckless moves at any cost," the minister said. "In October, they announced large-scale unscheduled exercises [between US and South Korean forces], new drills are also announced in December – although in the regular context they shouldn't have been conducted until spring," he added.
Lavrov described Russia's stance on the North Korean issue as "direct, honest and open." "We see the main task in preventing an armed conflict, which will have disastrous consequences, first of all, for the countries that are located in the region – South Korea and Japan, but let's not forget that China and Russia also practically bordering North Korea," Lavrov said.
Lavrov also reminded of the roadmap, jointly developed by Russia and China, which implied rejection of any actions that fuel tensions and transition to negotiations. The proposal called for North Korea to curb its nuclear and missiles tests in return for the US giving up on joint military drills with South Korea in the region, but was rejected by Washington.
A group of Russian MPs visited Pyongyang earlier this week in order to facilitate the resolution of the crisis. They said that the North Korean side expressed readiness to engage in talks, but demanded that Moscow play a mediating role.
The North Koreans "believe that they have reached parity not in the amount of strength, but in capabilities and think that now they can sit at the negotiating table without listening to constant threats and insults from the US," deputy chair of Russia's upper house Committee for International Relations, Senator Aleksey Chepa, told Interfax.
READ MORE: 'No impact': Trump slams China for inability to exert influence on Pyongyang
"They trust Russia, therefore they consider the possibility [of negotiations] only with its participation ... as the guarantor of the talks," Chepa said. However, he made clear that, during the talks with the Russian MPs, Pyongyang didn't mention any plans to put a stop to its controversial nuclear program.
You can share this story on social media: