Russia won't be surprised by war in North Korea, it's been preparing for it – Security Council head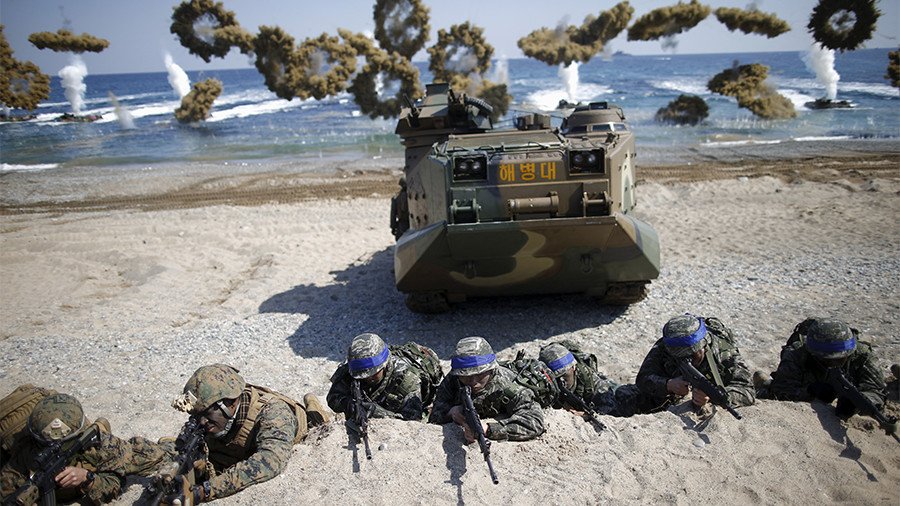 A war breaking out on the Korean Peninsula is one of the scenarios considered by the Russian military, so it would not be blindsided in case it actually happens, the head of Russia's Security Council said, advocating a diplomatic solution to the crisis.
The launch of the Hwasong-15 ballistic missile by North Korea on Wednesday, which Pyongyang claimed is "capable of striking the whole mainland of the US" and Washington's warning that the test brought the world "closer to war" has again raised concerns about potential disastrous consequences of a direct military confrontation.
Nikolay Patrushev, the head of Russia's National Security Council, said Russia has been weighing its options if the war of words turns into a live shooting war.
"We are making calculations, preparations. It will not be a surprise to us," Patrushev told RIA Novosti on Friday, when asked if Russia has been working on a response to hostilities potentially unfolding in the region.
While the war scenario can't be ruled out, it must be avoided at all costs, Patrushev said, saying it's not in the interests of Russia, which lies "effectively on the border with them [North Korea]."
"If there is military action, and you know that certain countries do not rule it out, then a range of different problems may follow, including for us," he said, stressing that Moscow sees diplomacy as the only solution to the crisis.
The latest launch reignited the tense situation over North Korea, with US officials resorting to war-mongering rhetoric once again.
Acknowledging that "a lot of people would get hurt and killed" in case of an all-out military conflict with Pyongyang, Sen. Lindsay Graham said that Washington would have no other choice than to go for it if "things don't change."
US envoy to the United Nations Nikki Haley doubled down on US President Donald Trump's promise to wipe out North Korea in case of an attack that he made in a notorious UN speech, warning that "the North Korean regime will be utterly destroyed."
Russia has repeatedly called on Washington, its allies and North Korea to back down from confrontation and accept a "double freeze" plan backed by China that would see the US and South Korea halting their large-scale drills and Pyongyang suspending its nuclear and ballistic program. Washington, however, refused to consider the plan, calling the idea of its activity being compared to that of North Korea insulting.
In the run-up to the latest test, Trump designated North Korea a state sponsor of terrorism, promising to roll out new sanctions on the self-isolated state.
Russian Foreign Minister Sergey Lavrov argued on Thursday that with its hostile actions and rhetoric Washington has been looking for an excuse to destroy North Korea. Lavrov said that he had been told by US colleagues that the next war games in the region likely would not come until spring next year, but instead Washington staged two in October and November, provoking Pyongyang's response.
Moscow has also spoken against severing all ties with North Korea, an idea touted by Washington, arguing that while it would be "the easiest thing to do" it will only worsen the situation surrounding the country.
You can share this story on social media: