Megacities could soon boast these boxy vehicles (VIDEO)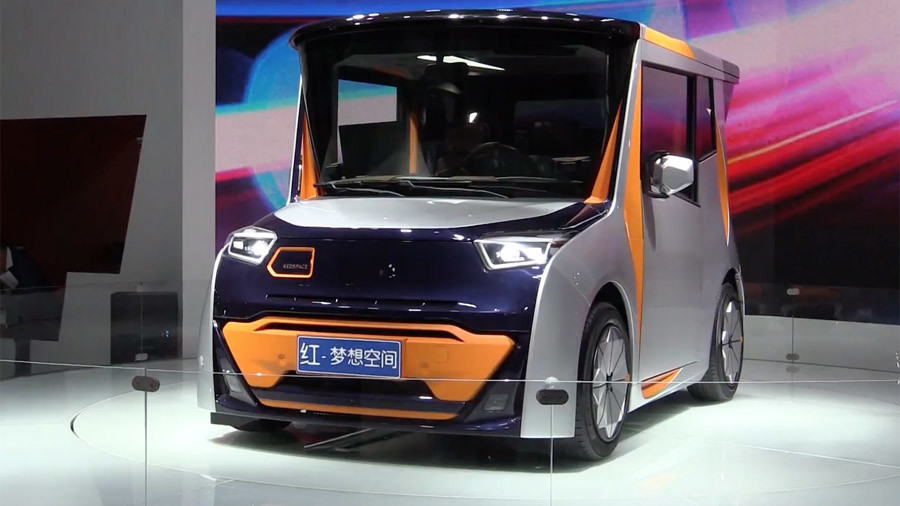 Cars of the future are usually depicted in movies as super sleek flying machines, whizzing between the LED-lit skyscrapers dominating industrialized megacities. Not so the latest vision for city drivers of tomorrow.
A new proposed e-car for Chinese megacities looks more akin to a toaster on wheels than a smooth roadster.
READ MORE: 'Hardcore smackdown to gasoline rivals' – Elon Musk has a new toy
The new proposal was unveiled by former BMW design chief Chris Bangle, the man behind REDS, an electric car produced by Chinese EV lorry manufacturer CHTC Group. The prototype presented at the Los Angeles Auto Show reaches a top speed of 31mph (49kph) and is powered by a bank of batteries in its back as well as solar panels on its roof.
Designed for Chinese megacities, the car features a 17-inch (43cm) entertainment screen and seats that turn front to back – for those sitting bumper-to-bumper in traffic-choked urban sprawl. "What do you want to do when the car is not moving?" he said. "You want to have fun with your friends, you want to play video games, you want to be able to turn around and talk to someone in the back seat."
READ MORE: Mazda to join electric hype: All vehicles to go hybrid & electric by 2030
Bangle insists the car is a preview of a production model, which might alarm those already put off by its cartoonish aesthetic, reminiscent of some other poorly-conceived designs from popular culture.