'Hardcore smackdown to gasoline rivals' – Elon Musk has a new toy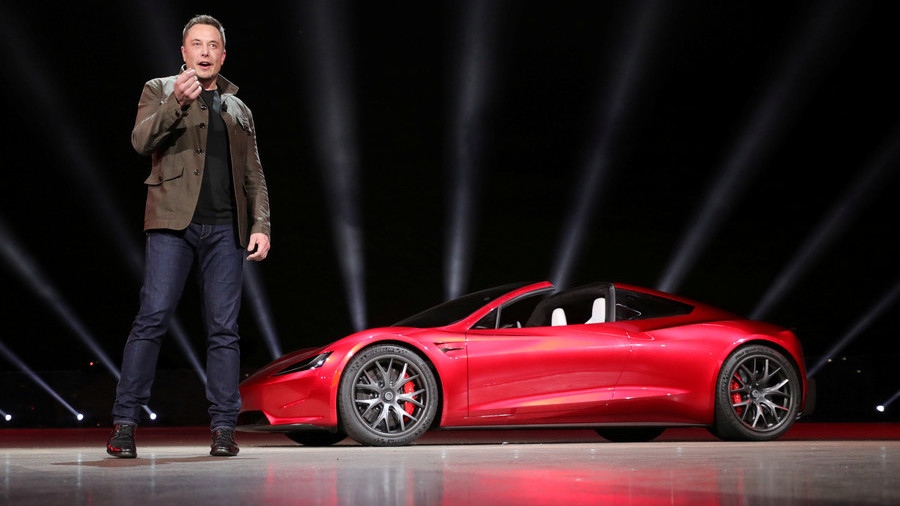 Tesla has revealed its latest Roadster sports car model, which owner Elon Musk says is the fastest production car ever made, promising top speeds of 250mph (400kph).
Musk unveiled the new electric car at a launch of the Tesla Semi truck prototype at an airport hangar in Los Angeles Thursday. The Tesla Semi opened its trailer to reveal the sports car to surprised guests.
"The point of doing this is to give a hardcore smackdown to gasoline cars," Musk said during the announcement which was streamed live on the Tesla website. "Driving a gasoline sports car is going to feel like a steam engine with a side of quiche."
The Tesla Roadster will have a 200 kWh battery pack that can give 630 miles of driving. It will reportedly be able to get from 0 to 60mph in 1.9 seconds, and reach 100mph in 4.2 seconds.
"This will the first time that any production car has broken 9 seconds in the quarter mile," Musk said.
The Roadster will be available to buy in 2020, provided you have $200,000 to spare. The first 1,000 will cost $250,000 and are Founder's Series models. Musk offered free rides in the Roadster to anyone willing to fork out a $50,000 deposit for the car.