Families of missing Argentine submarine crew reportedly told that all 44 have died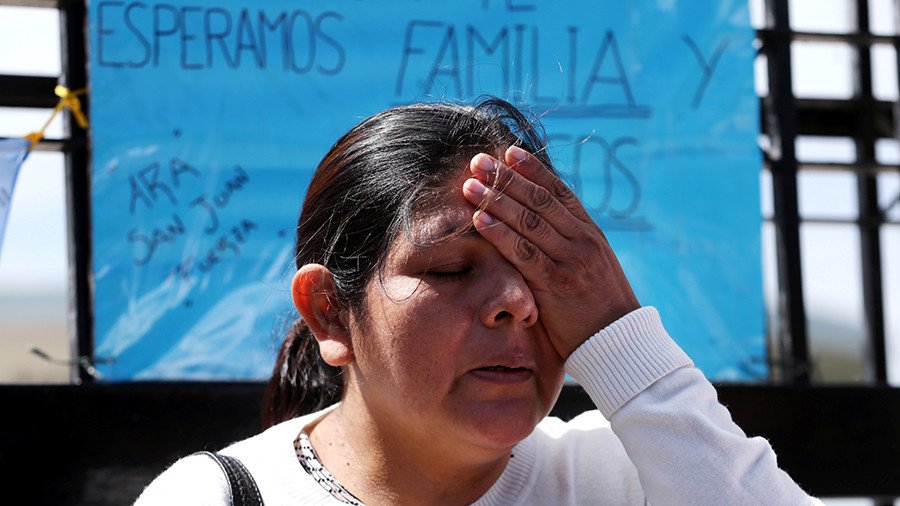 Families of crewmembers aboard the Argentinian submarine ARA 'San Juan' have reportedly been told there is no chance that 44 sailors on the ill-fated vessel are alive. The news comes after a violent underwater explosion was reported in the search area.
The submariners' families were beginning to receive the grim update on Friday morning, according to media reports. Itati Leguizamon, whose husband German Suarez was aboard the 'San Juan,' told ABC News that families had been told their loved ones were dead.
Leguizamon also said relatives of the crew, camped at Mar de Plata naval base, voiced cries of anguish and calls for military commanders to be held to account. She said the authorities "attacked" a person who was reading out a report that "the Austrian team had detected a strong explosion" near the missing sub, according to Ruptly video agency.
"Everyone started saying that they were liars and wretches," the military wife said, adding she will file a lawsuit "on civil and criminal responsibility for all of this" against her deceased husband's commanders.
Luis Tagliapietro, whose son Damian, a Navy lieutenant, was aboard the doomed submarine, told Argentina's La Nacion newspaper that he had also been informed that the crew did not survive. "They are all dead," he said.
"I cannot talk much. They called me 15 minutes ago to tell me that it exploded," he said through tears. "There's no human being who survives that." Asked again if the crew on board had died, Tagliapietro said: "Yes, yes, yes, yes. 100 percent. My son's boss confirmed that they are all dead."
Outside the submarine's home base in Mar del Plata, where family members gathered, a brother of one of the missing sailors was heard screaming, "They killed my brother!" ABC reported.
The reports come just one day after Argentinian Navy spokesman Enrique Balbi acknowledged there had been an "abnormal, singular, short, violent" and "non-nuclear" explosion on the day the submarine lost contact with the base. The underwater blast, according to the Navy, occurred three hours after ARA 'San Juan' failed to report its status and whereabouts.
The Navy is yet to officially confirm the fate of the 44 missing crew. "We do not rule out anything, and we still need to know where the submarine and our people are," Balbi said on Thursday, as cited by La Nacion.
Built at Germany's Thyssen Nordseewerke shipyard in early 1980s, the diesel-electric submarine ARA 'San Juan' vanished in the waters of the southern Atlantic on November 15 while on routine patrol. According to Naval Commander Gabriel Galeazzi, the submarine first surfaced and reported an electrical fault. The sub was ordered to abort its mission and return to base immediately, but failed to make contact for 48 hours, triggering a massive search and rescue operation.
Several countries, including Brazil, Chile, Colombia, France, Germany, Peru, and the UK, have sent either ships or planes to help with the search. The US Navy has deployed two sonar-capable underwater vehicles to create images of the sea floor.
The Russian military has sent an oceanographic research ship to the south Atlantic to help with the search for the Argentine submarine, TASS reported. The vessel, called 'Yantar' (Amber in English), is equipped with two self-propelled deep submergence vehicles allowing it to examine underwater areas up to 6,000 meters (3.75 miles) in depth.
READ MORE: Russia sends deep-sea craft to help search for Argentine submarine
There were 44 sailors on board the submarine, which is under the command of Pedro Martín Fernandez. Some 43 of the crew are men but there is also one woman, 35-year-old Eliana María Krawczyk, who is the first female officer in Argentina to have ever served on a submarine.
You can share this story on social media: