Missing Argentinian sub suffered electrical fault, made no satellite calls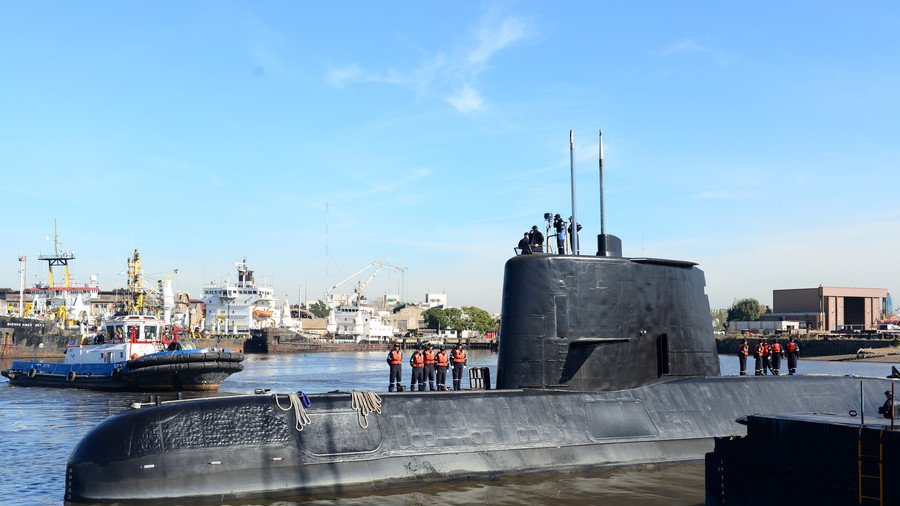 The international search for the missing Argentinian submarine with 44 crew on board is continuing after a naval commander confirmed the vessel did surface to report an electrical malfunction.
The ARA San Juan submarine went missing on Wednesday, November 15, with 44 people on board. The 65-meter long (213ft), seven-meter wide vessel's last known location is 432km (270 miles) off Argentina's coast.
The military sub surfaced Wednesday to report an electrical issue and was ordered to go back to its base, according to naval commander Gabriel Galeazzi. "The submarine surfaced and reported a malfunction, which is why its ground command ordered it to return to its naval base at Mar del Plata," Galeazzi told reporters on Monday.
The alarm was raised by the Argentinian navy on Friday after the vessel failed to make contact for 48 hours. The crew was returning from a routine mission to Ushuaia, near the most southern tip of South America, when the German-built diesel-electric submarine lost contact.
Rescuers hoped that satellite calls detected over the weekend were from the missing crew, however a navy spokesman confirmed on Monday that the calls did not come from the vessel.
International air and sea search missions by Brazil, Britain, Chile and the US were hindered by bad weather conditions. Waves were up to six meters when the sub went missing, but rescuers are honing in on a 300km radius surrounding the last point of contact with the vessel.
READ MORE: Missing Argentinian Navy submarine triggers major search & rescue op
While it's still unclear exactly what happened, a navy spokesperson said an electrical problem may have suddenly cut off the vessel's communications. One possible scenario is that the submarine's communications malfunctioned, but its navigation remains intact. However, such a theory has lost steam after the crew failed to dock as planned Sunday.
Protocol calls for submarines to surface immediately if communication is lost. In that case, crew have enough fresh water and food to last for about 25 days if they are floating on the surface.
However, an initial search didn't pinpoint the vessel and no emergency beacons have been activated by the crew. A worst-case scenario is that a catastrophic event like an explosion or fire has sank the sub.
"It's grim," said Capt Richard Bryant, a retired US navy submarine commander. "It implies that the ship is either on the surface without the ability to use its propulsion or that the ship is submerged."
You can share this story on social media: