German activists build Holocaust memorial outside AfD politician's house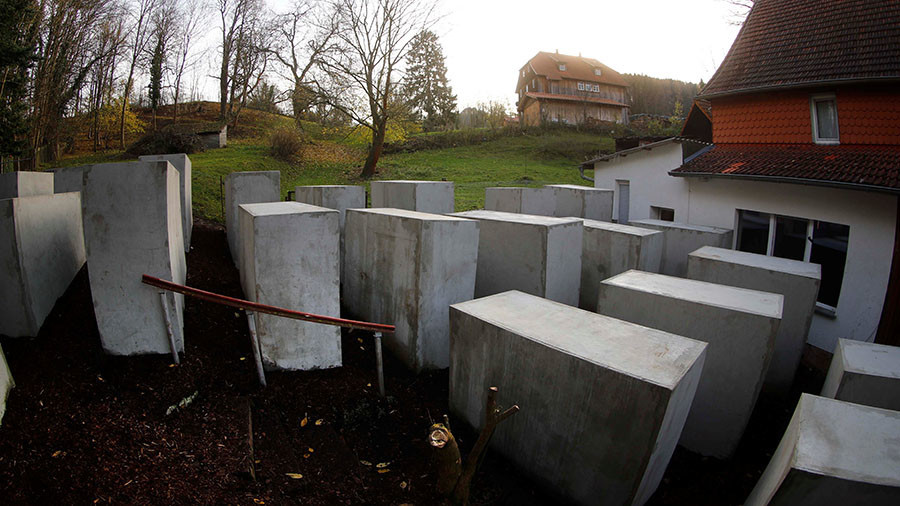 A German activist art collective has erected a replica of the Berlin Holocaust Memorial outside the house of a right-wing politician who'd controversially called on Germany to stop atoning for its past.
The Center for Political Beauty (ZPS) unveiled the 24 concrete slab installation outside the house of Alternative for Germany (AfD) member Bjoern Hoecke in Bornhagen, Thuringia Wednesday.
The art collective began renting the property next to Hoecke's shortly after a controversial speech in January. Hoecke called the well-known Holocaust Memorial in memory of the murdered Jews of Europe a "monument of the shame in the heart of the capital."
His words provoked a wave of outrage from the Jewish community as well as German politicians, including members of his own party. Following the outcry, Hoecke said his words were "maliciously and deliberately" misinterpreted.
The ZPS monument is a scaled-down version of the Holocaust monument Hoecke was referring to in his speech, which comprises 2,700 grey blocks spread over a field, resembling a graveyard. The artists placed their work on a property adjacent to Hoecke's, and hope it will remind him of the scale of Nazi persecution in the 1930s and 1940s.
"We are doing our neighborly duty," the group's leader Philipp Ruch told the Frankfurter Rundschau newspaper. "We hope he enjoys the view every day when he looks out the window."
The group are raising funds to keep their monument in place for the next five years. So far, a third of the 28,000 euros has been collected which will keep it going for two years. But on their website, ZPS promises to take their work down early if Hoecke falls to his knees and begs forgiveness in front of memorial, following the example of former German chancellor Willy Brandt who did so in 1970, at a memorial to the Warsaw Ghetto Uprising.
There has been no reaction from Hoecke so far, but the AfD-supporting Compact magazine condemned it as an act of "political war" by the far-left. Fellow AfD member Andre Poggenburg accused the ZPS of criminal behavior and stalking for keeping watch over Hoecke's house all those months.
"This is unacceptable and I expect the police and judicial authorities to immediately ensure that these fascist methods are stopped, and the activity is prosecuted and punished," AP quoted Poggenburg as saying.
But Lea Rosh, the journalist who had campaigned for the Berlin Holocaust Memorial, also known as the Memorial to the Murdered Jews of Europe, described the ZPS stunt as a "wonderful idea."
You can share this story on social media: