US military vehicles & homes vandalized after 'drunk' marine blamed for fatal Okinawa car crash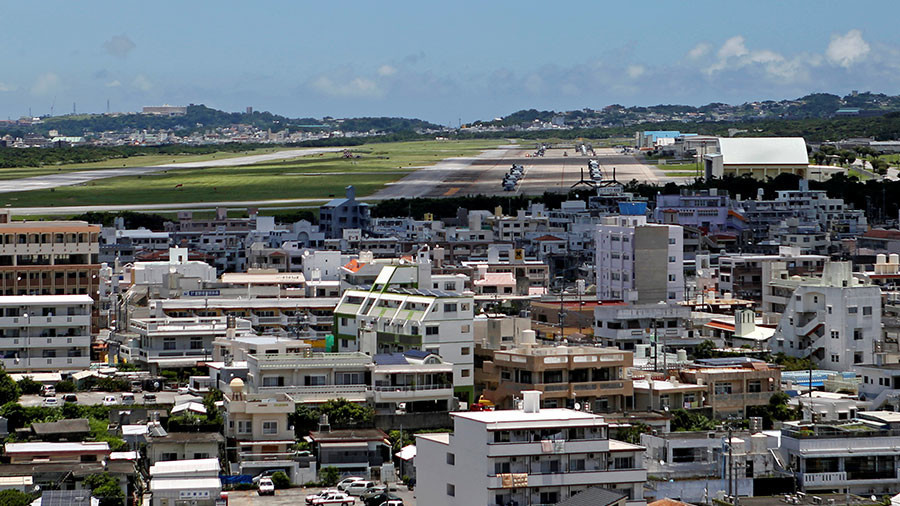 Dozens of vehicles and apartment buildings affiliated with the US military in Japan were vandalized in Okinawa, shortly after a local man was killed in car crash blamed by authorities on a drunken American marine.
A total of 29 civilian vehicles owned by US personnel in Japan were covered with paint early on Monday in the towns of Ginowan and Chatan in Okinawa, Stars and Stripes, the official US military newspaper, reported.
The cars had the blue-colored English letter 'Y' painted on them by unidentified perpetrators, the paper said. The marking may be explained by the fact that 'Y' is usually added to the license plates of vehicles owned by those who are covered by the Status of Forces Agreement (SOFA), which provides a legal framework to the vast US military presence in Japan.
Footage from Japanese broadcaster NHK also showed an apartment block hosting US military personnel in Okinawa vandalized in a similar manner. The building had a 'Y' and an image of a two-leaf clover painted on it, the police said, adding that they were unaware of the meaning of the latter symbol. The police told Stars and Stripes that they were investigating the incident, but declined to comment if US personnel had been targeted.
On Sunday, Japanese law enforcement detained Lance Cpl. Nicholas James-McLean over a fatal road accident. The US marine is said to have ignored a red light, crashing his two-ton military truck into a vehicle driven by a 61-year-old local man, who was later pronounced dead in hospital. According to the results of a breath test, James-McLean's blood alcohol level was three times over the limit allowed in Japan.
"We cannot contain our indignation," Takeshi Onaga, the Okinawa governor, said after the crash, blaming the US military for not doing enough to eradicate such incidents. "The Okinawa Prefectural Government has urged the US Forces to make sure to implement preventive measures, enforce stricter discipline and conduct thorough education programs. Despite our repeated requests, however, the accident took place, taking a precious human life," Onaga said, as cited by the Japan Times.
Following the crash, US Forces Japan (USFJ) ordered personnel to remain confined to their bases or homes, and forbade the purchase and consumption of alcohol. Similar restrictions were imposed by USFJ in May 2016, after a civilian employee was arrested for allegedly murdering a Japanese woman.
READ MORE: US Marine kills elderly civilian in drunk-driving accident in Okinawa, Japan
There are around 100,000 US military personnel currently in Japan, with half of them stationed in Okinawa, according to the USFJ website. The US military presence in the country is a hot topic with the Japanese public, which frequently sees thousands taking to streets in protest. The main causes for objection include jet crashes related to the US bases as well as sexual assaults and other crimes linked to US military personnel.
You can share this story on social media: