US military again bans alcohol, restricts personnel to base after fatal Okinawa drink-drive crash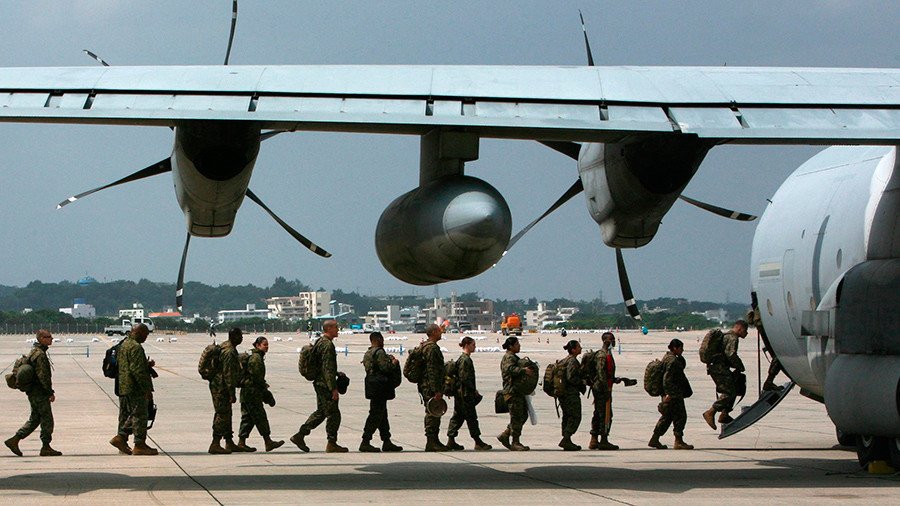 All members of the US military based in Okinawa have been restricted to their base and residences and banned from drinking alcohol, the US 7th Fleet has announced. It comes after a drunk marine reportedly caused a fatal crash over the weekend.
"The new restrictions follow an accident Sunday morning in Naha. . . . Alcohol may have been a factor," the US 7th Fleet said. "When our service members fail to live up to the high standards we set for them, it damages the bonds between bases and local communities and makes it harder for us to accomplish our mission," it continued, adding that the new rules are "effective immediately."
The announcement comes after Pfc. Nicholas James McLean, 21, was found with a blood alcohol level over the legal limit after his 2-ton military truck collided with a small truck in Naha, the main city of Okinawa, at around 5:25am on Sunday.
The driver of the small truck, 61-year-old Hidemasa Taira, was confirmed dead at a nearby hospital. McLean was arrested on suspicion of negligent driving resulting in death. According to a witness cited by the Japan Times, the crash occurred after the marine ran a red light and hit the small truck as it was attempting to make a right turn.
Kazuhiko Miyagi of the Okinawa police confirmed to AP that the marine's blood-alcohol content was three times the legal limit. The Japanese Foreign Ministry also confirmed on Sunday that James-McLean was "driving under the influence of alcohol" when the accident occurred, and requested that "discipline would be strengthened and that measures would be taken to prevent recurrence."
The US Marine Corps Installations Pacific said the cause of the collision is under investigation, according to a statement cited by Stars and Stripes. "We are still gathering facts and working with the Japanese authorities who are investigating the accident and its causes," Lt. Gen. Lawrence Nicholson, commander of Marine Forces
Japan and III Marine Expeditionary Force, said in the statement.
Earlier on Monday, Okinawa Governor Takeshi Onaga handed over a letter of protest during a meeting with Nicholson and US Consul General Joel Ehrendreich. "Every time such an accident takes place . . . the Okinawa Prefectural Government has urged the US Forces to make sure to implement preventive measures, enforce stricter discipline and conduct thorough education programs.
"Despite our repeated requests, however, the accident took place, taking a precious human life," Onaga said in the letter, as quoted by the Japan Times. "We cannot contain our indignation."
US service members in Okinawa have previously faced an alcohol ban as punishment. In May 2016, the military announced a ban on booze after a US base contractor and former marine was arrested on suspicion of murdering a woman, and after a marine pleaded guilty to raping a tourist. Just last week, the contractor pleaded guilty to raping the 20-year-old woman and dumping her body, but not guilty of intending to kill her.
Shortly after news of the two 2016 scandals emerged, a US Navy sailor was caught in a drunk-driving head-on collision with two other cars. Crimes by US soldiers date much further back, however, with US troops gang-raping a 12-year-old-girl in 1995.
Onaga has been an outspoken critic of the US military's presence in Okinawa, claiming the island faces an unfair burden by hosting service members. Although Okinawa accounts for less than 1 percent of Japan's land mass, it houses 71 percent of US bases in the country.
The governor has been campaigning against the relocation of the Marine air station at Futenma – in the middle of Okinawa's main island – to a remote location on Henoko, saying it should instead be moved off the island completely. The issue, which has sparked numerous protests among locals, prompted Okinawa to file a lawsuit against Tokyo in July, demanding a halt to construction work for the relocation. The island's government claims Tokyo is acting illegally and without the permission of Onaga. That same month, protesters staged a sit-in outside the US Marine Corps' Camp Schwab in a protest against the base's relocation.


You can share this story on social media: