'Alarm!' EU's Tusk says Polish govt policy is 'Kremlin plan'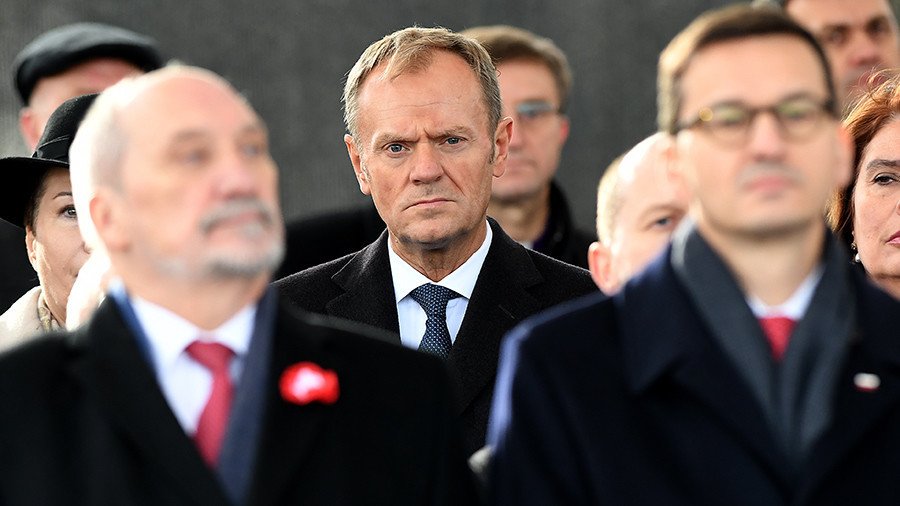 European Council President Donald Tusk has accused Poland's ruling Law and Justice Party of promoting Russian interests, saying the policy of the conservative government in Warsaw could be an evil "Kremlin plan."
"Alarm! Strident dispute with Ukraine, isolation in the European Union, walking away from rule of law and judicial independence, attack on non-governmental sector and free media," Tusk tweeted on Sunday. "Law & Justice strategy or Kremlin plan? Too similar to sleep well," the former Polish prime minister concluded, forgetting to provide any details about the alleged "Kremlin plan."
Alarm! Ostry spór z Ukrainą, izolacja w Unii Europejskiej, odejście od rządów prawa i niezawiłości sądów, atak na sektor pozarządowy i wolne media - strategia PiS czy plan Kremla? Zbyt podobne, by spać spokojnie.

— Donald Tusk (@donaldtusk) 19 ноября 2017 г.
Interestingly enough, during the previous elections, Poland's now-ruling Law and Justice Party (PiS) was considered to be openly hostile towards Russia. At the same time, the party's leader Jaroslaw Kaczynski blamed Russia for the death of his twin brother Lech Kaczynski, a former Polish president, who died in a plane crash in Russia's Smolensk in April 2010.
The anti-Russian sentiments among the party have apparently not disappeared since then. In an interview with the Frankfurter Allgemeine Zeitung (FAZ) newspaper earlier this year, Kaczynski said that the EU "would have to be able to keep up with Russia" and welcomed the idea of the European Union as a nuclear super power.
Tusk's allegations didn't go unnoticed. "As EU Council President, Donald Tusk has done nothing for Poland," Polish Prime Minister Beata Szydlo responded on Twitter. "Today, he's using his position to attack the Polish government and Poland," she added, amid speculation that Tusk, who had to resign as Polish PM to take the role of EC president, could re-engage in domestic politics when his term expires in 2019 (the same year the sitting government's term expires).
In late May, Tusk called on the leaders of G7 countries to stick to their sanctions policy on Russia over the crisis in eastern Ukraine. "Since our last G7 summit in Japan, we haven't seen anything that would justify a change in our sanctions policy towards Russia," Tusk told reporters in Sicily. "I will appeal to the other G7 leaders to reconfirm this policy."
Tusk has also voiced fierce criticism against a proposed new pipeline connecting Russia and Germany. In a letter to Jean-Claude Juncker, head of the executive European Commission, Tusk wrote in June that the Nord Stream 2 pipeline, which will run under the Baltic Sea, would "not serve the best European interest," leaving Ukraine "at Russia's mercy."
Tusk's latest attack at Poland's Euroskeptic and socially-conservative Law and Justice (PiS) Party comes amid an ongoing feud between Brussels and Warsaw. On Wednesday, the EU parliament adopted a resolution calling on Poland to uphold "fundamental European values," warning that local authorities' refusal to comply could lead to the suspension of voting rights in the EU Council. Among other things, the resolution calls on Warsaw to respect the right of freedom of assembly and to strongly condemn the "xenophobic and fascist march" that took place in Warsaw on November 11.
The resolution came under fire from Polish authorities, with Szydlo calling the discussions in the European Parliament "scandalous."
You can share this story on social media: