Poland seeks to ban Ukrainians with 'anti-Polish views'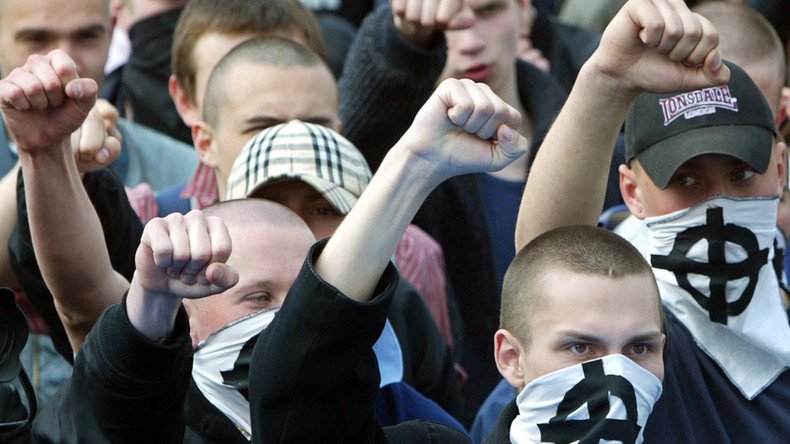 Poland, Ukraine's closest European neighbor and the destination for many crisis-hit Ukrainians in search of jobs, wants to ban those that exhibit "anti-Polish views," Polish FM Witold Waszczykowski said.
Speaking to state-run TVP1 broadcaster on Thursday, Waszczykowski said Poland will not let go of bitter historic issues like the slaughter of Poles by the Ukrainian SS Galicia division, even for the sake of geopolitical gain.
"We are aware just how important Ukraine is to us for geopolitical reasons... but the Ukrainians, aware of their country's significance for our security, believe that issues that divide us, especially historical ones, should be relegated to the second or even third tier in terms of importance," Waszczykowski said, as cited by Radio Poland. He denounced the Ukrainian authorities for reportedly blocking access to Polish memorials sites in Ukraine, thus impeding their upkeep by the Polish side and works to exhume the remains buried there.
It was estimated by the Ukrainian Institute of National Remembrance that at least 105 such memorial sites are scattered throughout Ukraine.
If things don't change, Waszczykowski said, Poland will have to impose restrictions on Ukrainian nationals involved in glorifying Nazism and obstructing Polish efforts to honor its victims.
READ MORE: 'Ukraine won't make it into EU if keeps glorifying Nazi collaborator' – Poland's Kaczynski
"At the moment, we are launching procedures that will not allow people with extremely anti-Polish views to come to Poland... Those who demonstrate and use administrative instruments against Poland will also bear the consequences," Waszczykowski said, as cited by Reuters. In particular, he noted "people who dress in SS Galizien uniforms."
Formed from the volunteers in the Ukrainian region of Galicia in 1943, the division, although not found guilty of war crimes by any tribunal, is accused of destroying Polish communities in Western Ukraine and massacring Polish civilians in "anti-guerrilla" raids. Last year, the Polish Parliament adopted a resolution calling the crimes committed by the Organization of Ukrainian Nationalists (OUN), the Ukrainian Insurgent Army (UPA), and the SS division Galicia in 1943-1945 genocide against the Polish people.
Notorious OUN and UPA figures, such as Nazi collaborator Stepan Bandera, are celebrated as national heroes in Ukraine, much to Poland's anger. The chairman of the ruling Polish Law and Justice Party (PiS), Jaroslaw Kaczynski, earlier warned Ukraine that it "wont's make it to Europe with Bandera." Kaczinski accused Ukrainians of building a "cult" of those who "committed genocide against the Polish people."
Torchlit processions commemorating Nazi collaborators are not a rare sight in western Ukraine. About 100 members of the far-right Azov Battalion took to the streets of Ivano-Frankovsk last year to mark the anniversary of the Galician SS division.
The decision by some Ukrainian regional authorities to ban Polish experts from memorials was in retaliation for Poland's April order to remove a monument to UPA fighters in the village of Hruszowice, built there illegally in 1994. The decision sparked an outcry in Ukraine, with the Ukrainian Institute of National Remembrance calling the government to stop considering requests from Polish officials to install new monuments or to take care of existing ones, that were built without consent of the Ukrainian authorities between 1991 and 2017.
You can share this story on social media: