Ukrainian Neo-Nazis mark anniversary of Galicia SS division with torchlit march (VIDEO)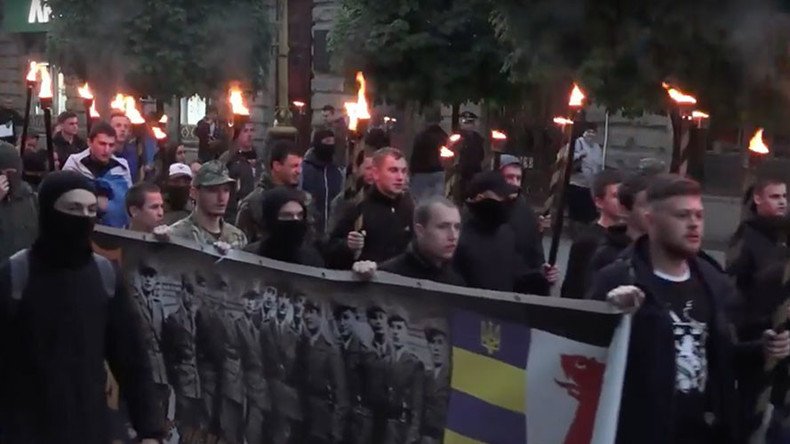 Torch flames and ultra-nationalist insignia and slogans were visible on the streets of the western Ukrainian city of Ivano-Frankovsk as neo-Nazis marched to commemorate the 73th anniversary of the creation of the Ukrainian SS division.
Chanting nationalistic slogans, around 100 members of the civil wing of the far-right Azov Battalion held the torchlit procession to honor those who fought for the Nazis against the Soviet Union in World War II.
Activists marching under a large banner kept on shouting "glory" to those who served in the 14th Waffen Grenadier Division of the SS, recognized as patriots by the current Ukrainian regime.
Following the procession, clergymen from the Uniate church, which acknowledges papal supremacy but retains its own orthodox liturgy, held a memorial service where they prayed for the souls of those guilty of butchering their own population.
The SS division also known as the 1st Galician was a military unit comprising over 80,000 volunteers from the Ukrainian region of Galicia. Created in 1943, as the Soviet Union was gaining the upper hand in a war against the Third Reich, it was largely destroyed in the battle of Brody, a major Red Army operation to force the Nazi forces from Ukraine and Eastern Poland.
Heinrich Himmler, Reichsführer and the head of SS, once said in a speech to soldiers from the division, "your homeland has become so much more beautiful since you have lost – on our initiative, I must say – those residents who were so often a dirty blemish on Galicia's good name, namely the Jews...I know that if I ordered you to liquidate the Poles...I would be giving you permission to do what you are eager to do anyway."
Following defeat, the SS Ukrainian division became part of the Ukrainian National Army united under single command against the Soviet Union. After Berlin fell, the Ukrainian unit surrendered to the Western Allies by May 10, 1945.
The division has been accused of carrying out numerous atrocities, including the destruction of Polish communities in Western Ukraine and the massacre of civilians in "anti-guerrilla" operations, although the Galicia has never been internationally recognized as guilty of any war crimes.
You can share this story on social media: