'Ukraine won't make it into EU if keeps glorifying Nazi collaborator' – Poland's Kaczynski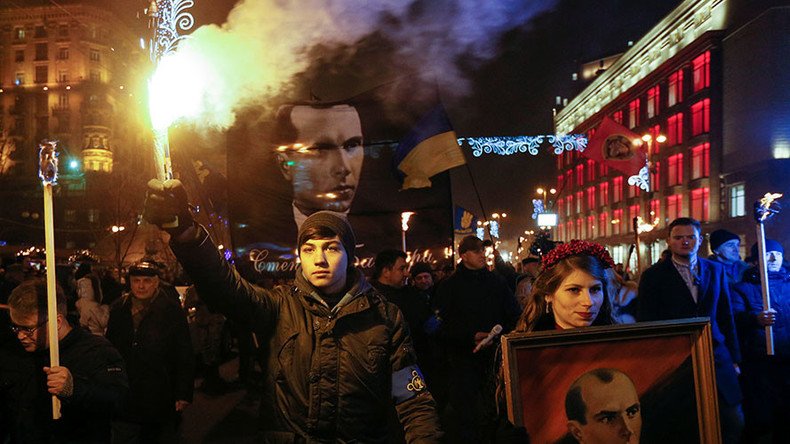 The glorification of Stepan Bandera and other Nazi collaborators will prevent Ukraine's integration with the European Union, Jaroslaw Kaczynski, leader of Poland's ruling Law and Justice Party, warned.
In his interview with weekly Do Rzeczy, cited by Polish media, Kaczynski said that he had already shared his thoughts with Ukrainian President Petro Poroshenko.
"I plainly told President Poroshenko that they won't make it to Europe with Bandera. It's absolutely clear to me. We've already shown great patience, but everything has its limits," he said.
"It's the case of Ukraine's specific choice," the politician said of Kiev's attempts to whitewash Bandera and other Ukrainian far-right radicals, who collaborated with the Nazis during World War II.
Bandera was leader of the militant arm of the Organization of Ukrainian Nationalists (OUN) during the beginning of World War II, but was later arrested by the Germans and spent years in a concentration camp.
OUN cooperated with the Nazis, urging the Ukrainian people to aid the invading forces in destroying the Soviet Union.
After being released, Bandera became the leader of the Ukrainian Insurgent Army (UPA) that was created in 1942, which mostly fought against the Armia Krajowa of Poland and the Red Army in Western Ukraine.
According to Kaczynski, the Ukrainian nationalists "surpassed the Germans in their brutality against the Poles."
It's estimated that between 76,000 and 106,000 Poles, mainly women and children, were killed in Volhynia and Eastern Galicia during the campaign of ethnic cleansing carried out by Bandera's UPA in 1943-44.
"For many years there's a cult of people who committed genocide against the Polish people," the former Polish PM said.
The 108th anniversary since Bandera's birth in early January was marked by torch rallies, which went on unhampered by the authorities and gathered thousands of people in Ukrainian capital Kiev and the port city of Odessa.
READ MORE: Ukrainian nationalists hold torchlit march in Kiev to mark anniversary of Nazi collaborator Bandera
The majority of demonstrators were members of the Right Sector and other far-right groups, which played a key role in the 2014 coup that brought the current Ukrainian leadership to power.
READ MORE: Spanish team refuse Ukrainian footballer loan after fans protest 'neo-Nazi links'
In 2010, the nationalist icon was even honored with the title of "Hero of Ukraine," but the decision was later outlawed by a court.
You can share this story on social media: