Brazilian off-duty cop vanquishes armed robbers while holding infant son (VIDEO)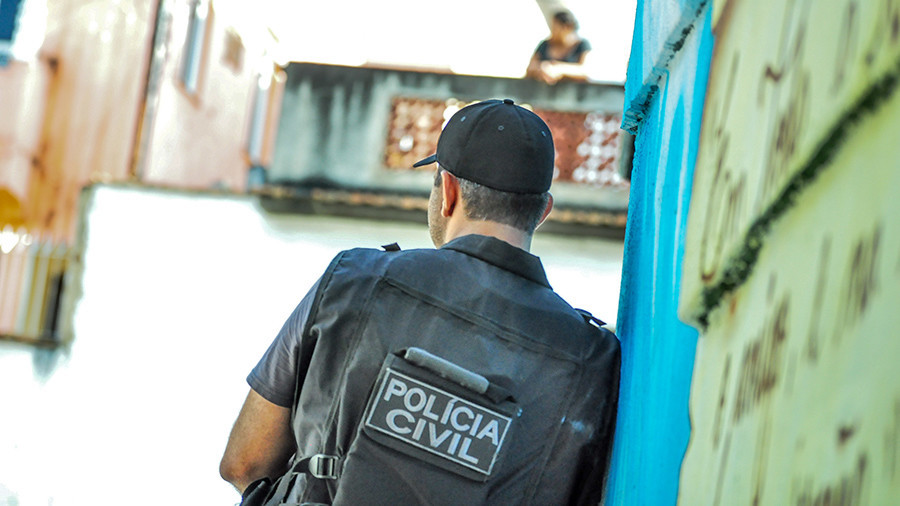 An off-duty police officer was slinging more than just a sidearm when he shot two suspected robbers in a pharmacy in Sao Paulo, Brazil. As a dramatic video of the botched robbery shows, the cop was also carrying his infant son.
Military Police Sergeant Rafael Souza was doing some Saturday shopping with his wife and young son when the two suspects entered the pharmacy. According to local media reports, one of them pointed his gun at the off-duty cop, who then drew his own weapon and opened fire — all while holding his infant son in his left arm.
Surveillance footage shows the moment when Souza unloads into the two men. Apparently, only after killing both does Souza hand his son over to his frantic wife, who is hiding behind a nearby row of shelves. Medical personnel arrived at the scene shortly after and pronounced the two suspects dead, local news outlets reported.
READ MORE: Father gunned down with semi-automatic weapon outside London home (VIDEO)
This isn't the first time a Brazilian cop has been involved in a shootout while a holding a child. In 2014, an off-duty officer in Campinas, Sao Paulo, was attacked while holding his three-month-old daughter. The cop was forced to drop the baby, but was able to shoot and later apprehend the criminal. His daughter sustained only minor injuries.
You can share this story on social media: