Firebombs vs tear gas: Clashes break out as Greeks remember 1973 student protests (VIDEO)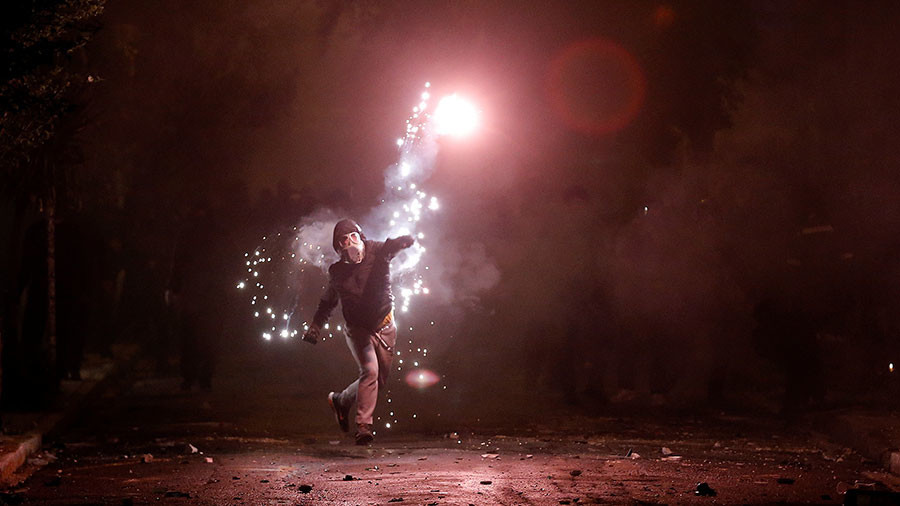 Street battles broke out between police and protesters in Athens at a march marking the 1973 student uprising, which helped topple the military junta.
READ MORE: Greek parliament passes austerity cuts as Molotov-throwing protesters clash with police in Athens
The annual protest, which took place on Friday, was peaceful for the most part, as around 10,000 protesters stopped by the Athens Polytechnic University in the afternoon to lay flowers and honor the memory of those killed in the 1973 uprising before marching towards the US embassy. Demonstrators used the rally to voice more contemporary grievances, such as the policy of austerity that has left hundreds of thousands of Greeks unemployed over the past few years. Marchers held up banners reading "We will live freely" and "No pensioner will be fired!"
However, as proceedings drew to a close, a group of masked youths started hurling petrol bombs at police in the central Exarchia district of the city. Officers responded by firing tear gas in an effort to disperse the crowd. At least one bystander was injured in the commotion; a woman who had to be treated for burns after being hit in the leg with a flare.
Thousands of extra officers had been deployed to the streets of Athens in anticipation of Friday's march, while metro stations were closed and shopkeepers rolled down their shutters to protect their storefronts.
The Greek military junta took power in a 1967 coup. With US backing, the junta cracked down on civil rights, dissolved all political parties, and rounded up and tortured suspected leftists. University students faced being conscripted by the army, while their unions were run by junta-appointed leaders. On November 14, 1973, students barricaded themselves inside the Athens Polytechnic University in protest, setting up their own radio station on-site, where they began broadcasting anti-junta messages. Three days later, military tanks rolled through the university gates. Over the course of the operation, some 24 students were killed.
Although the student uprising was crushed, the events of November 17 set in motion a series of events that precipitated the toppling of the dictatorship during the following year.