Greek parliament passes austerity cuts as Molotov-throwing protesters clash with police in Athens
New pension cuts and severe tax hikes have been approved by the Greek parliament as thousands of demonstrators protested new austerity measures amid clashes with police, Molotov cocktails and tear gas in central Athens.
The latest batch of austerity measures was passed late on Thursday with 153 votes secured by the ruling coalition government of PM Alexis Tsipras' Syriza party and the Independent Greeks (ANEL), while 128 opposition deputies voted against the measures in the 300-seat parliament.
People took to the streets of Greece's capital for the second consecutive day to protest new pension and tax-break cuts. The protest turned violent at some point as a small group of masked demonstrators threw Molotov cocktails and other projectiles at the police, who fired tear gas and pepper spray.
The protest was staged by the country's major trade unions.
An estimated 10,000 to 15,000 people gathered in front of the parliament building in Athens' Syntagma Square, AP reports. The situation escalated as a small group of masked demonstrators started to throw petrol bombs and other projectiles at the police. Police responded with tear gas and pepper spray.
Two people were detained and one arrested by the police in the aftermath of the clashes, according to ANA news agency. Law enforcement agencies reportedly confiscated an axe and a hammer from the arrested man.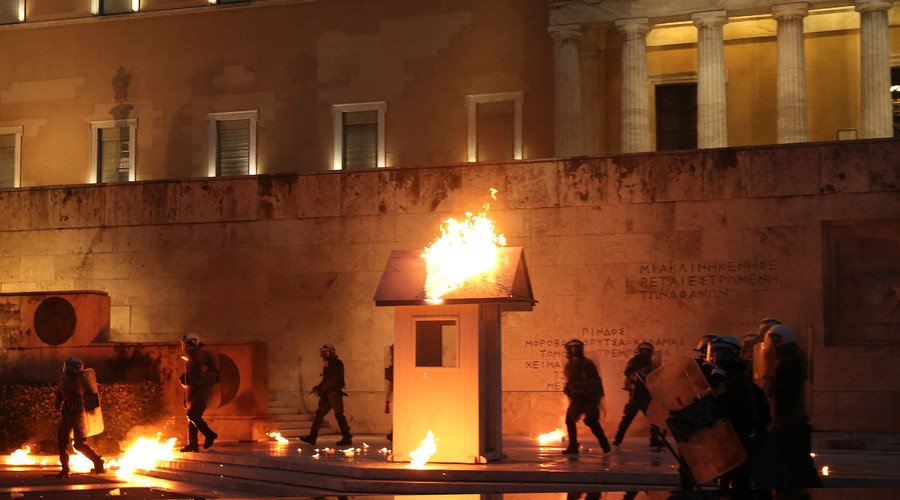 A post of the iconic Evzones Presidential Guards near the Tomb of the Unknown Soldier, located in front of the parliament, was set alight by a Molotov cocktail.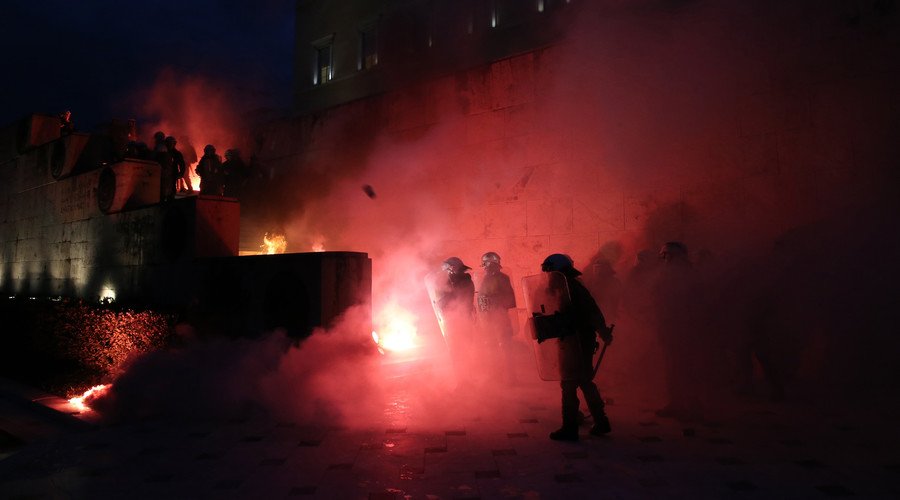 The clashes erupted as Prime Minister Tsipras was delivering a speech in parliament defending the controversial proposed legislation, which includes pension cuts and further tax hikes through 2020. The legislation is a part of measures to convince international creditors to release a €7.5 billion bailout tranche and grant Greece further debt relief.
While the ongoing protest will hardly have any impact on the ongoing political process, they indicate that the Greek society lost its faith in politicians, Professor of Social Anthropology in the VU Amsterdam University, Prof. Dr. Dimitris Dalakoglou believes.
"The reality is that unless the people storm the parliament there will be no real difference there. However, what you can see is a symbol and example of what is going on right now in Greek society," Dalakoglou told RT.
"It is more relevant what happens outside the parliament than what happens inside, because the government has no consent, and the political parties have no consent, so whatever they vote the society believes that they all are the same, they all are the same policy with a different name."
"These people rioting and clashing with the police outside the parliament right now and protesting for the last two days, during the general strike yesterday, are the important political agent of the moment in Greece," he added.
You can share this story on social media: