German military exports to Saudi Arabia, Egypt rise fivefold in 2017, slammed by opposition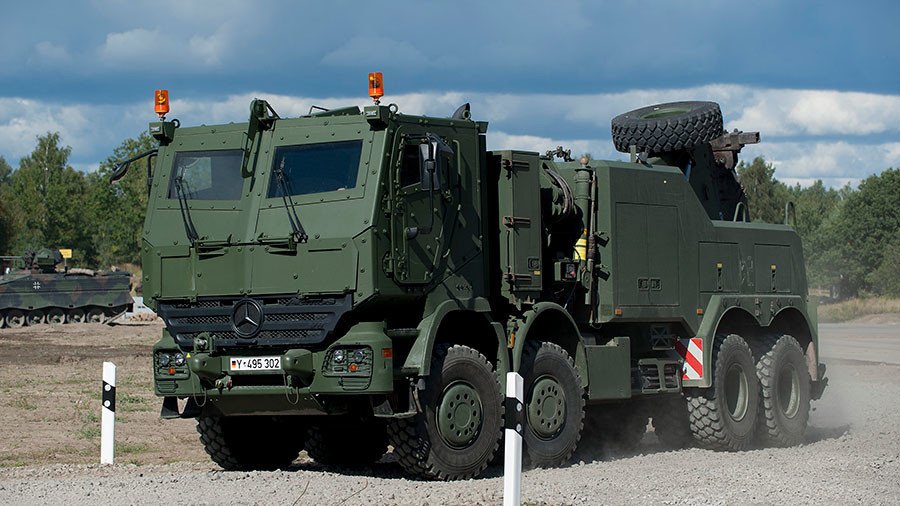 The German government has revealed that the total value of its arms sales to Saudi Arabia and Egypt in the third quarter of 2017 has quintupled in comparison to the same period last year. The news provoked a wave of outrage from the opposition.
While Egypt and Saudi Arabia are engaged in a long-running bombing campaign in war-torn Yemen, Riyadh and Cairo appear to be among the top clients of the German arms industry. The money spent is also on the rise.
The numbers have been disclosed in the Economy Ministry's answer to an information request filed by Left Party MP Stefan Liebich. According to the data, Egypt has taken first place with some €300 million ($352.5 million), skyrocketing from €45 million in the same period last year. Riyadh is also showing quite an appetite for German arms, importing €148 million ($173.9 million) worth of military equipment, going up from €41 million.
The ministry also said that weapons exports to non-EU and non-NATO countries now constitute more than a half of the German total arms sales as they doubled, reaching €871 million ($1.023 billion), while similar exports to Germany's NATO partners fell by a half over the same period.
The figures do not provide details on the exact types of weapons exported to each country. However, the German media assumed that, in case of Saudi Arabia, the exports might mostly involve the sale of four patrol boats and 110 military transport trucks, since these deals were already disclosed by the government in July.
The revelation provoked a wave of criticism from opposition politicians, who accused the government of fueling the war in Yemen. Liebich, who made the information request, called the "massively increased" exports to Saudi Arabia and Egypt "particularly reprehensible."
Saudi Arabia and Egypt have "to answer for the thousands of deaths from their dirty war in Yemen," he told Sueddeutsche Zeitung daily, adding that Germany should stop selling arms to Saudi Arabia and other countries involved in the Yemeni conflict.
"Earlier, there was a principle, under which… Germany never provided [arms] to the countries that were in a state of war. That is exactly the case here and that is why I am in favor of a full stop" of arms sales to the members of the Saudi-led coalition, the lawmaker said, as cited by the Deutschlandfunk broadcaster.
Liebich was supported by politicians from the Green Party, who also advocate a halt to the weapons exports to the Gulf countries. "We do not accept [the fact] that the German arms are exported to the Saudi Arabia and then [used] to kill [people] in Yemen," Green Party co-chair Simone Peter wrote in a Twitter post. She added that a new law on arms exports is "long overdue."
The Economy Ministry defended the government's decision to approve the arms sales to Saudi Arabia and Egypt. It claimed that "what needs to be taken into account much more are the kinds of goods and their respective purpose," insisting the government "pursues a restrictive and responsible arms export policy," Deutsche Welle reported.
However, another Green Party politician, Agnieszka Brugger, told Sueddeutsche Zeitung that her party is pushing for a "binding act on the arms exports control to [ensure] that German rules on arms export that are strict on paper are finally observed in reality."
Berlin is pursuing a somewhat ambiguous arms export policy in the case of Riyadh. On the one hand, it repeatedly demonstrated its reluctance to sell weapons to the Arab kingdom. For instance, in 2015, Germany avoided selling Heckler & Koch G36 assault rifles and Leopard 2 tanks to the Saudis. In January of the following year, then-German Vice Chancellor and Economy Minister Sigmar Gabriel also said that Berlin should "critically review" its arms sales to the kingdom.
On the other hand, Germany has never hesitated to sell what it calls "defensive" military gear to Saudi Arabia. Such sales included all-terrain armored vehicles, aerial refueling systems, combat jet parts, patrol boats and even drones.
According to the German media, Berlin sold Riyadh €530 million worth of military equipment in 2016 alone. In particular, Germany sold helicopters, jets and aircraft parts needed for mid-air refueling to Saudi Arabia at that time.
Riyadh, however, said in May 2017 that it "accepts the German unwillingness regarding the exports to Saudi Arabia" and "won't be stubborn in relation to arms deals." Saudi Arabia is waging a military campaign against Houthi rebels in Yemen since March 2015, with international human rights groups blaming Riyadh for the rising number of civilian deaths there.
You can share this story on social media: