'Zero-gravity seats & moisturizing sleepsuits': Emirates unveils luxury 1st class cabins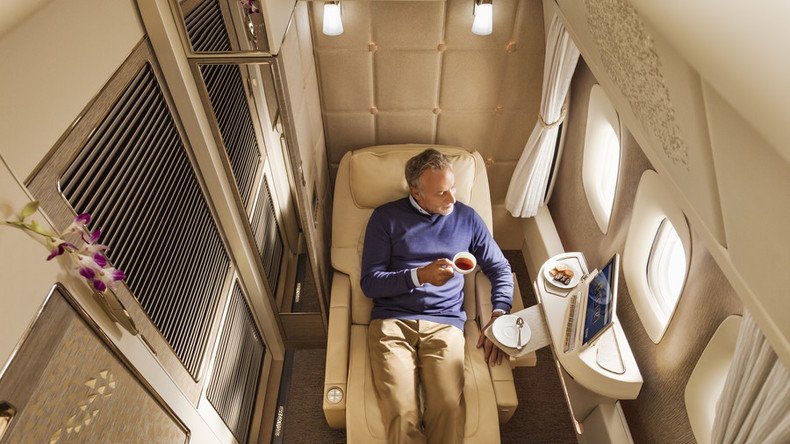 Emirates Airlines has kicked off the biennial Dubai Air Show by unveiling its new fully-enclosed cabins for first class passengers on its Boeing 777-300 fleet.
Described as a world first, the private suites on board the Emirates airliner boast a special "zero-gravity" reclining chair, a 32-inch digital touch screen TV, a full height wardrobe and a personal set of Steiner safari binoculars. Included in the package, is a luxury toiletries kit and a pair of Hydra Active pyjamas – a "moisturizing sleepsuit" made from Sea Kelp.
READ MORE: Plane carrying NBA stars hit by 'UFO' during Chicago descent (PHOTOS)
The suites will sit three abreast across the cabin with passengers in the middle row benefitting from a virtual window which will project the view from outside against the wall in real-time.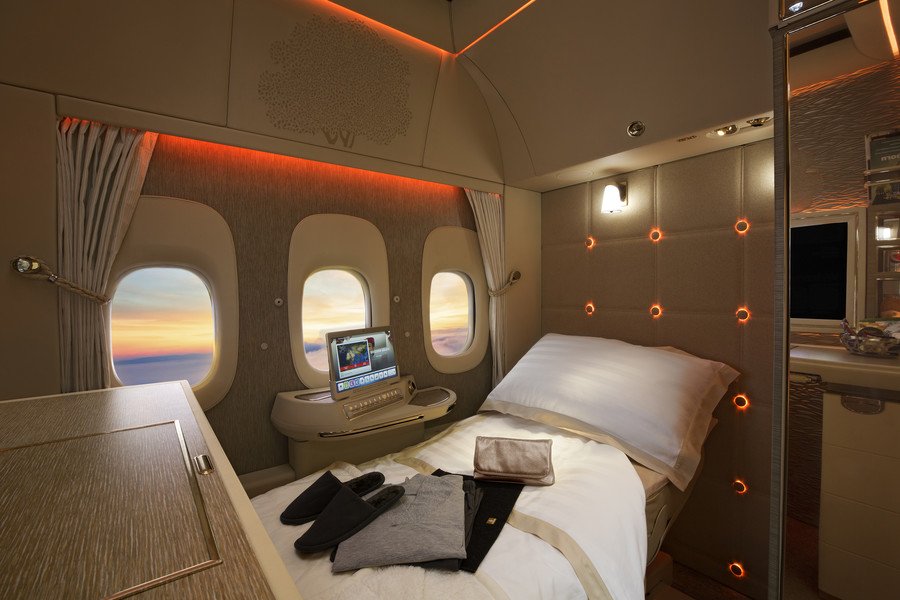 Emirates Airline President, Sir Tim Clark, says the cabins are a "real game-changer in terms of privacy" and were inspired by the luxury of car brand, Mercedes-Benz.
"This is the first time an Emirates product has been so influenced by another luxury brand, but it is a natural fit as both Emirates and Mercedes-Benz have the same unwavering commitment to fine detail, uncompromising quality, and a drive to push the boundaries," Clark said in a statement.
The airline tweeted a video of Sheikh Mohammed bin Rashid Al Maktoum, the ruler of Dubai, touring the cabins Sunday.
Designed using an analysis of NASA studies, the seats recline into a "zero-gravity" position which is described as the optimum comfort resting position for astronauts, as it alleviates pressure from a passenger's elbows, back and neck.
READ MORE: Russia wants closer cooperation with Singapore in civil aviation
Speaking to reporters at the Dubai Air Show, an international showcase for commercial aircraft staged every other year, Clark said the refurbished jets would begin operating on routes to Brussels and Geneva, but would expand to other routes over time.
"As we get more, they will appear on quite a few long haul operations, for instance Chicago, possibly Brisbane, possibly Perth," he said, according to Arabian Business. "We'd love to get them around the route network as best we can to publicise what we're doing."
These plush features don't come cheap, though. A first class flight aboard an Emirates flight in January from Dubai to Brussels will cost a passenger as much as $6,500 for a near seven-hour flight, around six times the cost of an economy flight on the same route.
You can share this story on social media: