Russian long-range bombers & submarine launch 'massive strike' on ISIS hideouts in Syria (VIDEO)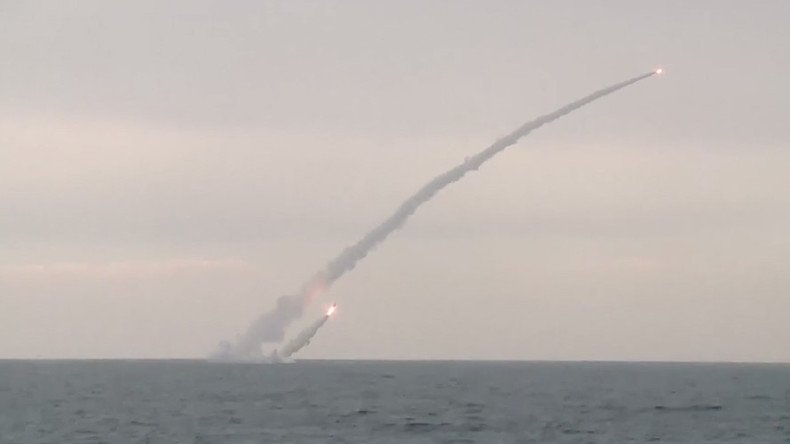 A Russian submarine and six long-range Tu-22M3 strategic bombers have performed a "massive" missile and bomb strike in eastern Syria, destroying ISIS hideouts and stockpiles in the governorate of Deir ez-Zor.
The attacks were carried out on Friday, targeting positions of Islamic State (IS, formerly ISIS/ISIL) terrorists near the Syrian city of Abu Kemal.
The Russian submarine 'Kolpino' and six Tu-22M3 bombers participated in the operation to support the advancing Syrian government troops, Russian Defense Ministry spokesman Gen. Igor Konashenkov said at a press briefing.
READ MORE: Russian long-range bombers destroy militant outposts, depots in Syria (VIDEO)
The submarine launched a salvo of six Kalibr cruise missiles from a submerged position, the spokesman added. "A major ISIS unit near Abu Kemal received a crushing blow during the massive missile and aviation strike," Konashenkov stated.
The strategic Tu-22M3 bombers were also joined by Su-24 and Su-34 planes, based at Khmeimim Airbase in western Syria. The attack planes were supported by Su-30, Su-35 and Mig-29 fighter jets.
Over the past three days, Tu-22M3 long-range bombers carried out 18 strikes against IS terrorists in eastern Syria, according to Konashenkov. In addition, the submarines 'Velikiy Novgorod' and 'Kolpino' carried out nine strikes from the Mediterranean Sea.
After conducting the strikes, all the long-range bombers returned to Russia. The submarines continue to carry out operations in the area, alongside other Russian ships, according to Konashenkov.
The Syrian Army is pursuing the terrorists on multiple fronts simultaneously. While troops supported by massive Russian airstrikes are pushing towards the city of Abu Kemal, other units have fully liberated the city of Deir ez-Zor.
"Units of the Syrian Arab Army, in cooperation with the allied and supporting forces, have accomplished the mission of fully liberating Deir ez-Zor city from [the] ISIS terrorist organization," a Syrian military source told SANA news agency on Friday.
A large number of IS fighters were killed, and multiple IS weapon and munition stockpiles were seized, according to the source. The army continues to de-mine the area and search for hidden terrorists.
The city of Deir ez-Zor, which endured years of IS blockade, was reached by the Syrian army with the support of Russian airstrikes early in September. Some neighborhoods of the city, however, have remained under terrorist control.
According to the Russian Defense Ministry, the IS-controlled area in Syria has shrunk to less than 5 percent of the country's territory. Prior to the start of Russia's Air Force operation, IS controlled "more than 70 percent of Syrian territory," Defense Minister Sergey Shoigu said last month.
You can share this story on social media: