Russian long-range bombers destroy militant outposts, depots in Syria (VIDEO)
A group of six Russian strategic Tu-22M3 bombers has carried out an airstrike on militant positions in the Syrian province of Deir ez-Zor, destroying munitions stockpiles and outposts, the country's defense ministry said.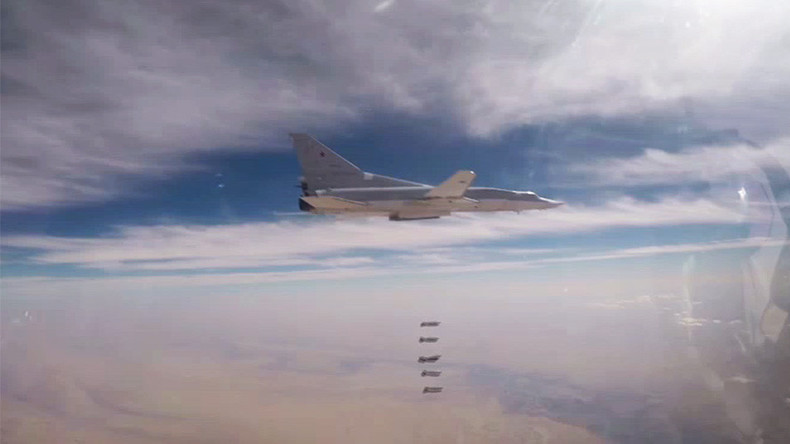 The airstrikes were carried out on Wednesday in the vicinity of the city of Abu Kamal, which remains the last major Islamic State (IS, formerly ISIS/ISIL) stronghold in southeastern Syria.
READ MORE: Russian submarine strikes ISIS in Syria with Kalibr cruise missiles from Mediterranean (VIDEO)
"Militant outposts, ammunition and weaponry stockpiles were the targets of the strikes. The objective control systems registered hits on all the designated targets," the Russian Defense Ministry said in a statement.
The strategic Tu-22M3 bombers flew to Syria from Russia through the airspace of Iran and Iraq, the ministry stressed. Su-30SM fighter jets, scrambled from Russia's Khmeimim Airbase in western Syria, provided cover for the long-range aircraft. All the planes returned to base upon completing the mission.
Russian long-range aviation has seen action during the anti-terrorism campaign in Syria on numerous occasions. Strategic bombers have been used against high-priority targets, such as command centers, or major munitions stockpiles, delivering a heavy load of free-fall bombs or launching high-precision cruise missiles.
The major new airstrike came just a day after the Russian submarine 'Veliky Novgorod' fired a barrage of Kalibr cruise missiles, striking targets in the same Abu Kemal area. A large group of militants was killed in the Tuesday strike, and several command points and major weapons stockpiles were destroyed, according to Russia's Defense Ministry.
You can share this story on social media: