#1917LIVE: Stalin shaves Lenin's beard, plays piano in panoramic video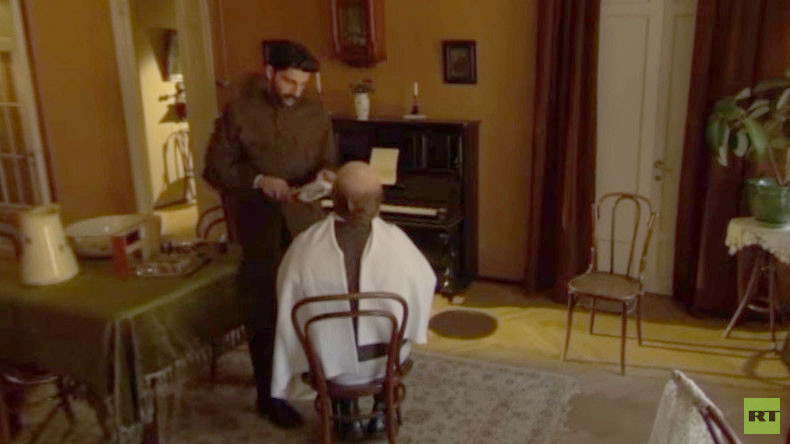 Joseph Stalin apparently had deft fingers, as the new episode in RT's "Revolution 360" series in the fully-immersive, 360-degree video format reveals. The future Soviet leader is seen both swiftly handling a cutthroat razor and tinkling the ivories in Lenin's safe house.
In the latest VR mini-documentary, the two historical figures, revolutionaries Vladimir Lenin and Joseph Stalin, meet in a Petrograd apartment in July 1917. Viewers can feel like they are standing right next to Lenin, who at the time has just been charged with conspiring with foreign agents of hostile nations.
To escape with a fake ID, he needs to change his appearance.
Young Stalin comes in handy while the future revolutionary leader is trying to get rid of his well-recognizable beard and mustache. In hair-raising 360, the viewers can watch Stalin personally shave Lenin with a cutthroat razor, and listen to a few ominously pre-shadowing comments.
"You're not bad with this razor," Lenin points out. "Are you as good with a dagger?"
Apparently pleased with his work, Stalin then starts playing the piano, while Lenin is changing clothes next room – which you can peek into by just moving your mobile device or using control arrows.
"I don't even recognize myself... I prefer the way I look with no beard, it shaved years off," Lenin says, looking right at you.
The "Revolution 360" series, which is part of RT's groundbreaking historical reenactment project, is being published on the #1917LIVE website, as well as on RT's social media platforms and RT's VR app RT360.