US, Japan & S. Korea begin 2-day missile 'tracking' drills over Korean Peninsula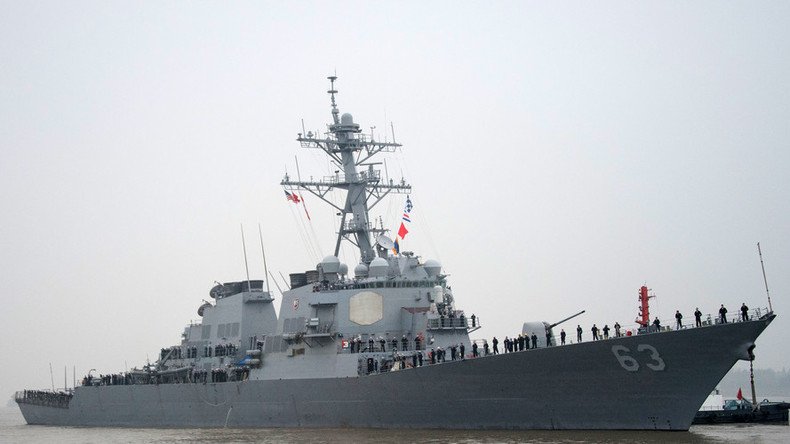 The US, South Korea and Japan have kick-started a two-day missile warning drills over the Korean Peninsula to practice the cross-navy capabilities in detecting and tracking any potential North Korean ballistic missiles, South Korean Joint Chiefs of Staff said.
The two-day Missile Warning Exercise which is taking place Tuesday and Wednesday off South Korean and Japanese coasts are designed to tackle North Korea's nuclear and missile threats, Joint Chiefs of Staff said.
The drills are being led by the American Arleigh Burke-class destroyer USS Stethem, Japanese Kongō-class guided missile destroyer JDS Kirishima and South Korean Sejong Great-class destroyer which are all equipped with Aegis Combat System, according to Yonhap.
While the Aegis Combat System produced by Lockheed Martin is designed to tracks and destroy enemy targets, the two-day missile warning drills will only detect and track the enemy missiles. The exercise will not include intercepting and destroying projectiles.
The US and its allies are not planning to engage any actual simulated targets but will practice a computer simulation to check Aegis' ability to detect, track and exchange information between the three navies in real time via satellites.
The drills off the Korean Peninsula begin amid heightened tensions around Pyongyang's nuclear and missile test launches. North Korea conducted its sixth nuclear test on September 3, forcing the UN Security Council to introduce new sanctions. The UN sanctions, however, did not stop Pyongyang from launching a series of ballistic missiles later in September, while vowing to destroy the US and their allies with nuclear weapons if attacked.
For now, Washington is still on course to pursue diplomatic denuclearization of the Korean Peninsula.
READ MORE: 'Until first bomb drops': Tillerson vows to continue diplomatic efforts on N. Korea
On Monday US Secretary of Defence James Mattis, Japanese Defence Minister Itsunori Onodera and South Korean Minister of National Defense Song Young-moo held trilateral talks on the sidelines of an ASEAN security forum held in the Philippines, where besides diplomatic pressure the chiefs vowed to step up joint air drills over Korean Peninsula.
"The three ministers lauded collective efforts to expand information sharing on North Korea's nuclear and missile threats and enhance response capabilities, including the execution of multiple combined flight training missions with US bomber aircraft," the defense chiefs said in a joint statement.
On Sunday, in an interview with Fox News, Donald Trump has once again reminded Pyongyang that the US is "totally prepared" to use the military option against North Korea.
"You would be shocked to see how totally prepared we are if we need to be," to use military action, Trump said. "Would it be nice not to do that? The answer is yes."
With Pyongyang and Washington whipping up tensions, Moscow and Beijing have repeatedly called on both parties to remain calm. Russia and China have called for the implementation of the so-called "double freeze" initiative that envisages North Korea suspending its nuclear and missile program in exchange for the US and South Korea abandoning their military exercises in the region. The initiative has been rejected by Washington.
You can share this story on social media: