'Until first bomb drops': Tillerson vows to continue diplomatic efforts on N. Korea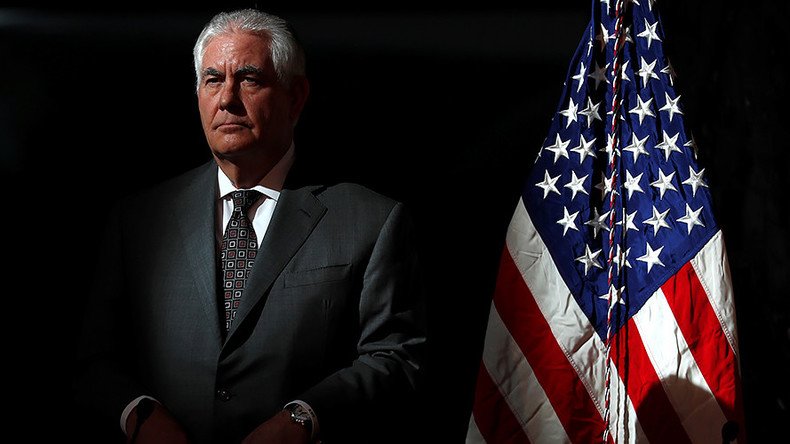 Washington will continue its diplomatic efforts to solve the North Korean crisis only "until first bomb drops," US State Secretary Rex Tillerson told CNN.
Tillerson appeared on CNN's State of the Union on Sunday, where he told host Jake Tapper that President Donald Trump wants to resolve the Korean Peninsula crisis "diplomatically."
"He is not seeking to go to war [with North Korea]," Tillerson stated. "He made it clear… that he will continue diplomatic efforts."
"As I've told others these diplomatic efforts will continue until the first bomb drops," Tillerson said.
Earlier in October, Trump tweeted that Tillerson is "wasting his time" trying to negotiate with North Korean leader Kim Jong-un. "I told Rex Tillerson, our wonderful Secretary of State, that he is wasting his time trying to negotiate with Little Rocket Man," Trump wrote at the time, mockingly referring to the North Korean leader.
Trump and Kim have been engaged in a fierce war of words in recent months. Comments from each side have become more and more aggressive. On one occasion, the US president vowed to "totally destroy" North Korea if the US is attacked.
Earlier in October, following his meeting with senior US military officials at the White House, Trump mysteriously said: "This is the calm before the storm." He later confirmed that he was speaking about North Korea.
Pyongyang has repeatedly threatened to reduce the US to "ashes and darkness," and has called for a nationwide struggle against "war-thirsty" Trump.
Washington continues to flex its military muscle with ally South Korea on the Korean Peninsula, conducting military drills which North Korea condemns. Earlier in October, the USS Ronald Reagan, with nearly 80 aircraft on board, entered the South China Sea on its way to the shores of South Korea. Drills will likely be held around October 20.
You can share this story on social media: