Not Dali's daughter: Fortune teller claiming heritage ordered to pay for surrealist's exhumation
Published time: 17 Oct, 2017 18:44
Edited time: 18 Oct, 2017 08:03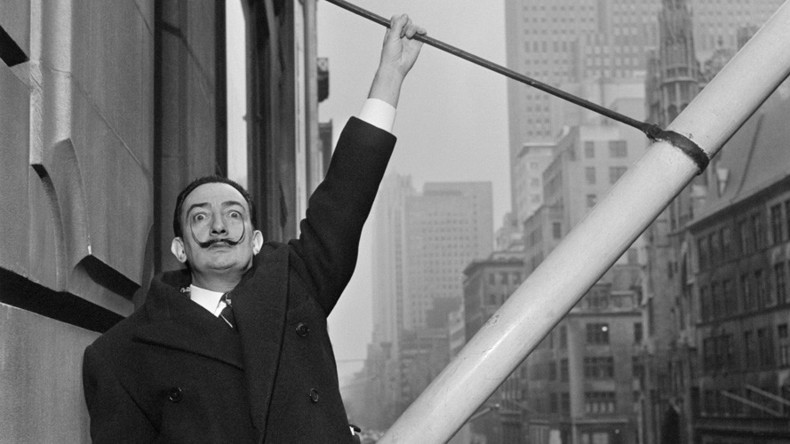 A Spanish woman, who won a lawsuit to exhume the corpse of the surrealist artist Salvador Dali to prove she was his only living child, has now been ordered to pay for the procedure that refuted her claim.
A court in Madrid ended a paternity legal action, brought by Pilar Abel Martínez, who claimed her mother had a secret affair with the famous painter, according to AFP, citing the ruling from October 13 published Monday. The 61-year-old Tarot card reader was also ordered to cover the cost of the analysis, which included exhuming Dali's body for DNA tests.
Test results in two laboratories "[excluded] Salvador Dali as the biological father of Maria Pilar Abel Martinez" in September. However, for this test to take place a 1.5-ton tombstone had first to be lifted out of the way to gain access to the coffin. The eccentric painter's hair, teeth, nail and two long bone samples were taken in July.
So far, the exact cost of the procedure hasn't been disclosed as it's still being evaluated, according to the Gala-Salvador Dali Foundation that oversees the artist's estate. The amount may be around 7,000 euros, according to the woman's lawyer, Enrique Blanquez, El Pais reports.
"I have free justice, so what do you want me to pay?" Abel said, expressing her disappointment over the "lies" she heard inside the courtroom.
The woman is poised to appeal the decision, as she called the DNA tests into question. "After what I've seen today, I can believe anything," the psychic said.
Her first paternity claim dates back to 2015, when she started a legal action against the Spanish government and the Dali foundation, which opposed the order on Dali's exhumation as "totally inadequate and disproportionate."
If Abel had been proved Dali's daughter, she could have inherited 25 percent of the estate the painter left to the state.
READ MORE: 'Holy Grail of art rediscoveries': Da Vinci masterpiece expected to fetch $100mn at auction