'Holy Grail of art rediscoveries': Da Vinci masterpiece expected to fetch $100mn at auction
Published time: 11 Oct, 2017 01:02
Edited time: 11 Oct, 2017 07:47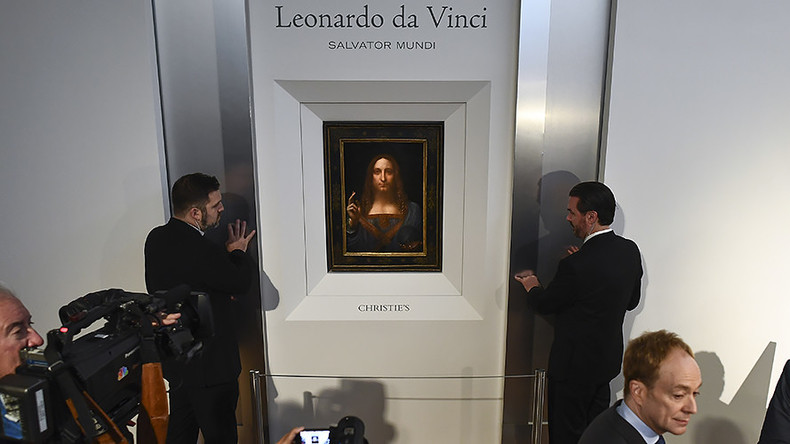 Fewer than 20 authentic original paintings by Renaissance master Leonardo Da Vinci are known to exist in the modern world. Next month, one of those masterpieces is expected to challenge for the title of most expensive work of art in history.
'Salvator Mundi' a portrait of Jesus Christ dating back to roughly 1500, is due to be sold at Christie's auction house in New York City on November 15. The portrait was long-believed to be lost or destroyed.
"This is truly the Holy Grail of art rediscoveries," said Alan Wintermute, Christie's senior specialist for Old Master paintings, as cited by Reuters.
The painting is expected to fetch up to $100 million at the auction.
"There has never been anything like it sold, and so the market will decide," Wintermute said of the masterpiece.
It was previously owned by King Charles I, after which it was auctioned in 1763 before disappearing until the turn of the 20th century.
It was later sold to an American collector by Sotheby's auction house in 1958 before being auctioned off again in 2005.
At some point along the chain of custody, someone painted over Christ's face and hair which, Wintermute told Reuters, was allegedly common practice.
The then-owner, a private collector from Europe, began the restoration process and, after six years, the piece was authenticated by experts as a true Da Vinci original. It was then exhibitioned at London's National Gallery in 2011 before being sold privately once again in 2014, reports Curbed.
The painting will be shown at public exhibitions in Hong Kong, London and San Francisco prior to auction.
Andy Warhol's 'Sixty Last Suppers,' one of the pop artist's last pieces before his death in 1987, is to be sold at the same auction and is expected to fetch $50 million.