US society 'based on leaks,' but proof of Russian election meddling never emerged – Lavrov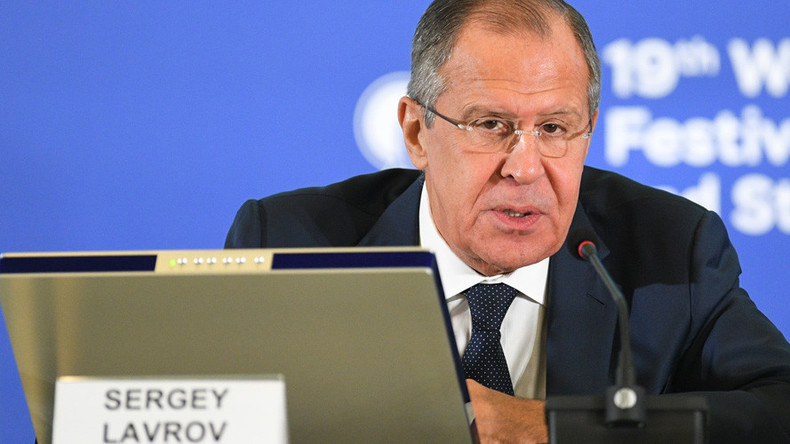 Almost a year has passed since the US launched a probe into Russia's alleged election meddling, but not a single piece of factual evidence has been leaked to the media, Russian Foreign Minister Sergey Lavrov said, branding the claims part of US political infighting.
"While the majority of Democrats cannot get over their resentment over the loss of their candidate in the presidential election, and a significant part of the Republicans are annoyed with the unsystematic nature of the current administration, including the president, this anti-Russian story and hysteria unfolding in the US reflects a domestic political struggle," Lavrov said at the 14th annual Valdai Discussion Club meeting at the Russian Black Sea resort of Sochi on Tuesday.
The US government has repeatedly accused Moscow of interfering in the 2016 US election by hacking and leaking emails of Democratic Party staff, as well as the correspondence of Hillary Clinton's campaign chairman, John Podesta. Moscow has denied meddling in the election, noting that no evidence has been provided to support the claims.
"For almost a year since the US began investigating [Donald] Trump's ties with Russia and Russia's interference in the election campaign on the side of the Republicans, there have been hearings staged, special investigations launched, a special prosecutor appointed, dozens of people interviewed, and … with so many characters involved in the process, there has been not a single leak about at least a single fact that would support the allegations," Lavrov pointed out.
The Russian foreign minister believes that this "speaks volumes," adding that is because "American society as a whole, especially in matters of foreign affairs, is built on leaks."
"It is impossible to seal the processes launched to investigate the so-called Russian meddling. Therefore, they simply do not have those facts," Lavrov concluded.
On Monday, former US presidential candidate Hillary Clinton claimed in an interview on ABC's Four Corners show that WikiLeaks founder Julian Assange colluded with the Russian government in the lead-up to the 2016 US presidential election.
"WikiLeaks is unfortunately now practically a fully owned subsidiary of Russian intelligence," she said, alleging that the actions of WikiLeaks and Russia played a major role in her losing the race.
"There was a concerted operation between WikiLeaks and Russia and most likely people in the United States to… weaponize that information, to make up stories, outlandish, often terrible stories that had no basis in fact… which were used to denigrate me, my campaign, people who supported me, and to help Trump."
In response, Assange accused Clinton of "constant lying," saying that there's obviously "something wrong with Hillary Clinton… A cold creepiness rarely seen."