'Trump looking to create tension in Middle East by targeting Iran deal'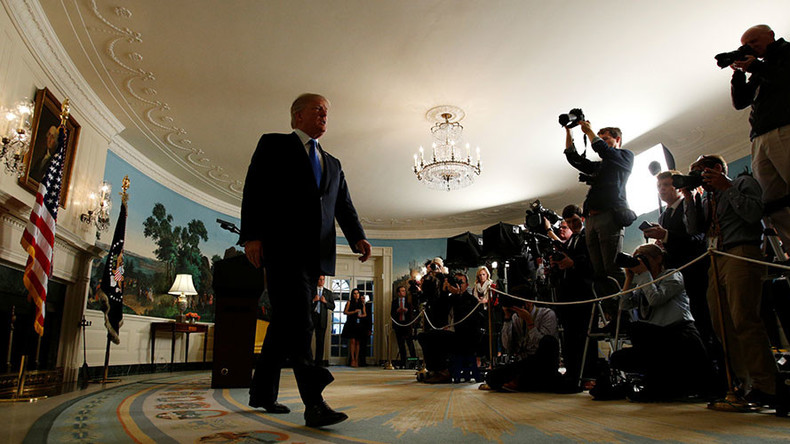 Donald Trump's attack on the Iranian nuclear deal is an attempt to provoke tension in the Middle East, which will serve as a distraction from the US president's failed approach to the North Korean crisis, award-winning journalist Martin Jay told RT.
Trump's claims that Tehran benefits too much from sanctions relief provided by the 2015 Iranian nuclear deal are "just a smoke screen," Jay stressed.
Read more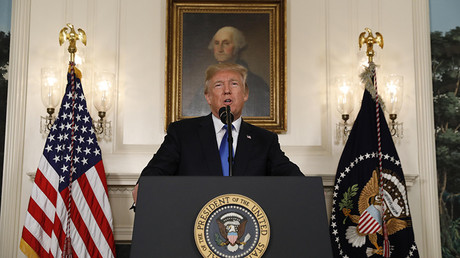 "His real objective in the region is to get the Iranians to walk away from the deal. He wants to say to America, to the Congress: 'Look, I tried to talk to these people and they walked away from this deal,'" Jay added.
The collapse of the accord will "create a tension [in the Middle East] which wasn't there in the past," the journalist said. In his view, Trump is focusing on Iran "because he wants to walk away from the North Korean crisis with some dignity intact. He doesn't want the journalists looking too carefully at what really happened there."
It's a "vicious circle," he added, explaining that a US or Iranian pullout from the nuclear deal will allow Washington to put even greater sanctions pressure on Tehran. However, Jay warned that "one thing the Americans can't afford to happen is for the Iranians to go back to developing their own nuclear arms."
Trump 'wants to constantly' violate Iran deal
Seyed Mohammad Marandi, a professor at the University of Tehran, said he didn't believe that Trump was really trying to get rid of the nuclear deal.
"I think what he wants to do is constantly violate the agreement until the only thing that is left for the Iranians is to continue with their side of the bargain, whereas the Americans can sanction the whole of Iran," he said.
However, the professor warned that such an approach by Washington was "simply not going to work."
READ MORE: 'It's not up to single country to terminate Iran nuclear deal' – EU foreign policy chief
"The US under Obama and Trump, they've violated the agreement time after time," he told RT, noting that the International Atomic Energy Agency (IAEA) has confirmed repeatedly that Tehran was abiding by the accord, which was signed in 2015 after years of negotiation by Iran and a group of world powers – the US, UK, Russia, France, China, Germany and the EU.
Marandi also decried Trump's threat to sanction the Iranian Revolutionary Guard, saying that it would be "in itself an act in support of terrorism." The Revolutionary Guard is actively participating in fighting Islamic State (IS, formerly ISIS/ISIL) in Syria and "the US is, in fact, trying to weaken those forces that have been blocking terrorism," he explained.
'There comes time where you put ancient history aside'
Virginia State Senator Richard Black told RT that Trump's new Iranian strategy may have "some sort of a positive reception from Congress."
"The problem is that it's going to be driven in large part by the Senate Foreign Relations Committee, which includes some real 'super hawks' – Senator Tom Cotton… who seems to have a great interest in a war with Iran… and Marco Rubio," he said.
Read more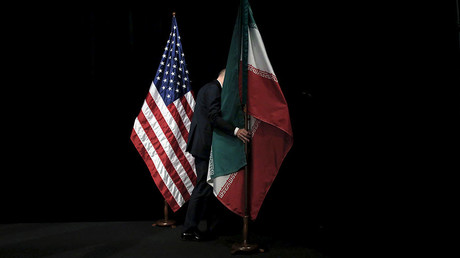 Black warned that "there's going to be a great deal of diplomatic uncertainty by the US unilaterally trying to undermine an agreement that involved much of the advanced world." The senator also pointed out that Trump's harsh rhetoric regarding Iran "isn't going to help" his ratings as "the American people are tired of theses endless wars of regime change in the Middle East."
Meanwhile, a potential conflict with Iran "would be a Great War and would in all likelihood emerge as World War III," he said. "When we constantly accuse Iran of being a sponsor of global terror, it's very difficult to document any instances of classic terror on behalf of Iran" since the takeover of the US embassy in Tehran back in 1976, Black stressed.
"There comes a time where you have to put ancient history aside" and start building relations on a new foundation, he added.
During his address earlier on Friday, Trump said that he will not certify Iran's compliance with the nuclear agreement due to "multiple violations."
READ MORE: 'We've buried many like Trump': Iranian general warns Tehran knows how to 'fight against US'
He also announced sanctions against the Revolutionary Guard "for its support for terrorism."
Director general of the IAEA, Yukiya Amano, countered by saying that "the nuclear-related commitments undertaken by Iran under the JCPOA [Joint Comprehensive Plan of Action] are being implemented."
Reacting to Trump's address, EU foreign policy chief Federica Mogherini stressed the nuclear deal was "not a bilateral agreement. It does not belong to any single country and it is not up to any single country to terminate it."