Saudi king's Russia visit: Luxury carpets, golden escalator & 1,500 staff (VIDEO)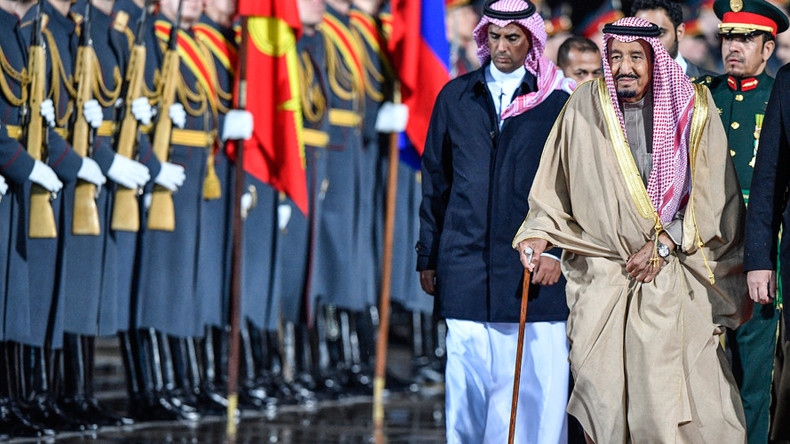 Travelling for business can be a drag without the comforts of home. But if you're an oil rich monarch then you need not go without.
King Salman bin Abdulaziz of Saudi Arabia has strong form in bringing a lavish entourage on his state visits, and as part of his latest trip he reportedly flew in 1,500 staff, plush carpets and gold plated protective barriers to Russia.
The 81-year-old monarch met President Vladimir Putin after his arrival in the Russian capital on Wednesday. He is expected to discuss trade and joint infrastructure projects with Russian Prime Minister Dmitry Medvedev on Friday.
READ MORE: Russia & Saudi Arabia sign billion dollar deals during King's visit
The Saudi Arabia head of state booked out both the Four Seasons Moscow and the Ritz Carlton in preparation for the discussions.
The two luxury hotels are thought to be the base for part of the Saudi leader's massive 1,500-strong staff, according to a Bloomberg source.
A premier room at the Four Seasons can cost upwards of $3,800, with the top Pozharsky Royal suite only available for booking on request.
Coinciding with King Salman bin Abdulaziz's visit, the Ritz Carlton hotel, located just 1km from the Kremlin, shut down its entire car park until October 8. The facility has a daily charge of around $50 dollars per vehicle.
The Saudi royal's entourage includes staff familiar with specific food preparations and how the monarch prefers his coffee. Reports suggest plush carpets were also brought in by Saudi officials to make the stay a comfortable one.
READ MORE: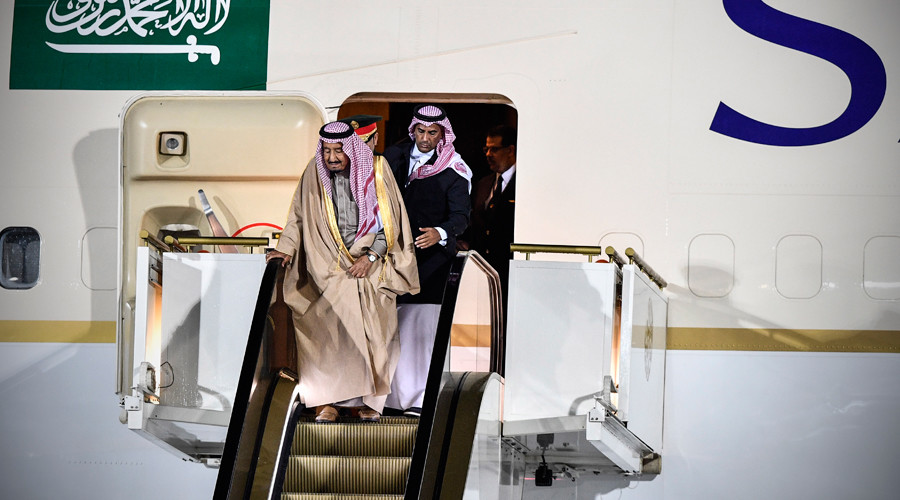 The House of Saud is estimated to be worth around $1.4 trillion, meaning King bin Abdulaziz has a vast fortune to dip into when travelling abroad.
The funds extend to a luxury planes, gold-plated protection and a customized escalator. While on a visit to Japan in March, the delegation of Saudi officials arrived on 10 aircraft.
Around 1,200 hotel rooms in Tokyo were reserved for the group during the stay, while some 500 limousines were also reportedly used on the four-day tour.
King Salman bin Abdulaziz has previously been spotted using the golden escalator to disembark aircraft. However, on Wednesday the device seemed to malfunction and the royal was forced to walk to the tarmac of Vnukovo International Airport.
Safely on the ground, the king was photographed passing through by journalists, separated from his path by glass and gold barriers.
This week's visit to Moscow is the first of its kind by a reigning Saudi monarch and marks a new departure in relations between the countries.
You can share this story on social media: