Arrest of US consulate worker 'devalues' Turkish-American relations – embassy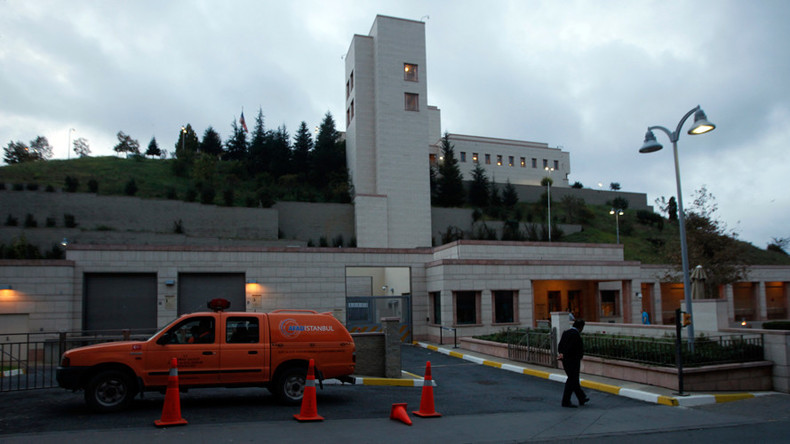 The US Embassy in Turkey has condemned the arrest of a US consulate employee in Istanbul over alleged links to exiled cleric, Fethullah Gulen, blamed for the failed coup last summer, saying the move undermines relations between Washington and Ankara.
Turkish citizen Metin Topuz, who worked at the US General Consulate in Istanbul, was arrested by the local law enforcement late Wednesday.
A court later ruled that Topuz is to remain in custody, with terrorism charges reportedly filed against him.
A source told Turkish Anadolu news agency that the consulate employee was accused of "attempting to overthrow the constitutional order and Turkey's government," as well as "spying."
Topuz is believed to be linked to the associates of Gulen, who, according to Turkish authorities, masterminded the failed military coup in July 2016 from the US.
The US Embassy in Ankara said in statement that it was "deeply disturbed" by the arrest of the consulate worker.
"Baseless, anonymous allegations against our employees undermine and devalue longstanding partnership" between the US and Turkey, the embassy stated.
It also said that the leaked information on Topuz from Turkish government sources "seemingly aimed at trying him in the media rather than a court of law."
The failed coup, which led to a major crackdown on opposition in Turkey and saw tens of thousands arrests, is among the reasons for the recent cooling in Turkish-American relations.
Ankara's demands to extradite Gulen – who denies any involvement – from the US to Turkey have been so far been left unanswered by both the Obama and Trump administrations.
Another divisive issue is the US support for the Kurdish YPG fighters, whom Washington views as a major ally in fighting Islamic State (IS, formerly ISIS/ISIL) in Syria.
Ankara strongly opposes any empowerment of the Kurds, as it views the YPG as an extension of the banned Kurdistan Worker's Party (PKK), which has been fighting Turkish troops for decades in the southeastern part of the country.
READ MORE: Erdogan slams US for 'arming terrorists' after Washington cancels $1.2mn Turkey weapons deal
In September, a US court also indicted Turkey's former economy minister, Zafer Caglayan, over conspiring to violate US sanctions against Iran.
The American side believes Caglayan illegally moved hundreds of millions of dollars through the US financial system on behalf of Tehran, while Turkey maintains that he acted in accordance with international law.