Erdogan proposes release of US pastor in exchange for coup suspect Gulen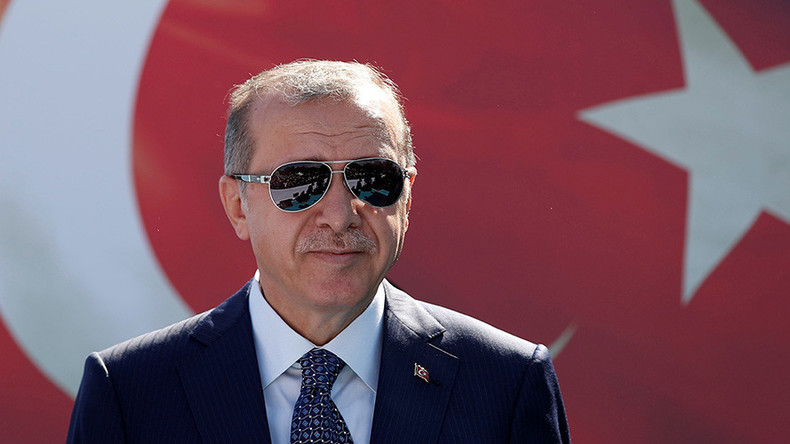 Turkish President Recep Tayyip Erdogan has suggested that Ankara could free a detained US pastor if Washington extradites Muslim cleric Fethullah Gulen, who Turkey accuses of being behind last year's failed coup attempt.
"'Give us the pastor back,' they say. You have one pastor as well. Give him (Gulen) to us," Erdogan said during a speech to police officers at the presidential palace in Ankara.

"Then we will try him and give him to you.
"The (pastor) we have is on trial. Yours is not - he is living in Pennsylvania. You can give him easily. You can give him right away."
The US pastor referred to by Erdogan is Andrew Brunson, who was detained in Turkey on terrorism charges last October.
According to Turkish media, Brunson's charges include being part of Gulen's network. However, the US says the pastor has been wrongfully imprisoned and has called for his release.
President Donald Trump asked Ankara to return Brunson to the US in May, according to the White House.
Gulen, a former ally of Erdogan, and his supporters are accused of orchestrating the failed coup attempt in July 2016. However, the cleric has denied any role in the events, which led to the deaths of 250 people.
In August 2016, President Erdogan issued an ultimatum to the US, saying it must choose between Turkey and the US-based Turkish cleric.
"Sooner or later the US will make a choice […] Either the coup-plotting terrorist FETO [Gulenist Terror Organization, term used by non-Gulenists] or the democratic country Turkey. The [US] has to make this choice," Erdogan said in a speech.
Erdogan's government launched a crackdown following the coup attempt, which saw thousands of people detained.
A decree issued in August gives Erdogan the power to approve the exchange of foreigners detained or convicted in Turkey with those held in other countries "in situations required by national security or national interests."
Meanwhile, Turkey continues to have an increasingly tense relationship with the EU, which criticized Erdogan's actions following the coup.
The crackdown negatively impacted Turkey's lengthy efforts to receive EU membership, with German Chancellor Angela Merkel making her opinion clear that Turkey should not become a member of the bloc.
Erdogan has responded with his own thoughts on the EU, telling Reuters last week that the bloc has "never kept their promises" when it came to Turkey gaining membership.
You can share this story on social media: