'Cut off tentacles & go after the big head': Saakashvili calls for power grab in Kiev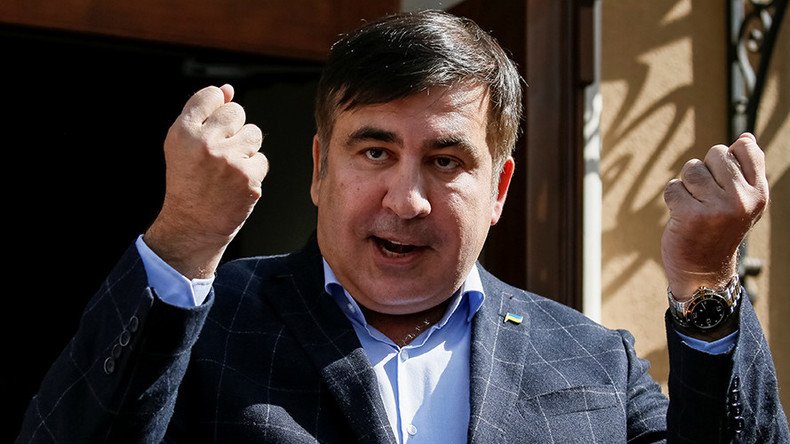 The former president of Georgia and Odessa governor Mikhail Saakashvili, whose Ukrainian citizenship was recently revoked by President Petro Poroshenko, has called on the people of the southern Ukrainian city to go after the president and impeach him.
"My dream is to change power in Kiev, because they haven't let me change Odessa," the former governor, who illegally crossed into Ukraine earlier this month, told hundreds of his supporters in Odessa Saturday.
Saying that he "has never had the authority to change the city," Saakashvili announced that everything he did while occupying the Odessa governor post had been through "partisan" methods. He promised to "come back to Odessa and change it" after disposing of authorities in Kiev, with his statements being greeted with loud cheers and applause.
Ahead of Saakashvili's appearance at a central square in Odessa, his supporters clashed with a group of opposing protesters who reportedly tried to sabotage the politician's speech.
Saakashvili described Odessa officials as a "bunch of bandits." He added that the local authorities are only the "small tentacles of a big octopus, whose head is in Kiev."
"As long as we don't sever the main head, it's pretty pointless to deal with the tentacles. But we will cut off the tentacles too, and for them not to grow back again, we must go after the big head," he announced to the hundreds-strong crowd.
The former Odessa governor then called on the Ukrainian people to join him at a protest in Kiev in mid-October, to present a demand to impeach president Poroshenko.
"I am sure that here [in Odessa] we write the new history of Ukraine, the whole Black Sea, Europe and entire world," he concluded.
READ MORE: McCain appointed to Ukraine reform advisory team headed by fugitive Georgian ex-leader
The former Georgian leader, who is wanted in his home country, had been elected as governor of Odessa Region and granted Ukrainian citizenship through a special presidential decree in May 2015. In July this year, however, Poroshenko revoked Saakashvili's citizenship.
The controversial political figure came to power in Georgia in the so-called Rose Revolution of 2004. Saakashvili's two consecutive terms as head of state were characterized by liberal reforms, opposition crackdowns and the 2008 attack on the breakaway Republic of South Ossetia, which resulted in the deaths of Russian peacekeepers stationed there, forcing Russia to intervene.
Saakashvili left Georgia days before his presidential term expired in the autumn of 2013. The new government soon accused him of embezzling hundreds of thousands of dollars from the state budget, which, according to prosecution authorities, were splashed out on parties and expensive gifts.
While Saakashvili denies the accusations, he is still wanted back home for abuse of power during the crackdown on anti-government protests and attacking the opposition TV station Imedi. In February 2015, Georgia issued an extradition order for Saakashvili but Ukraine denied the request.
You can share this story on social media: