'Humanitarian nightmare': Over 500k Rohingya refugees flee Myanmar violence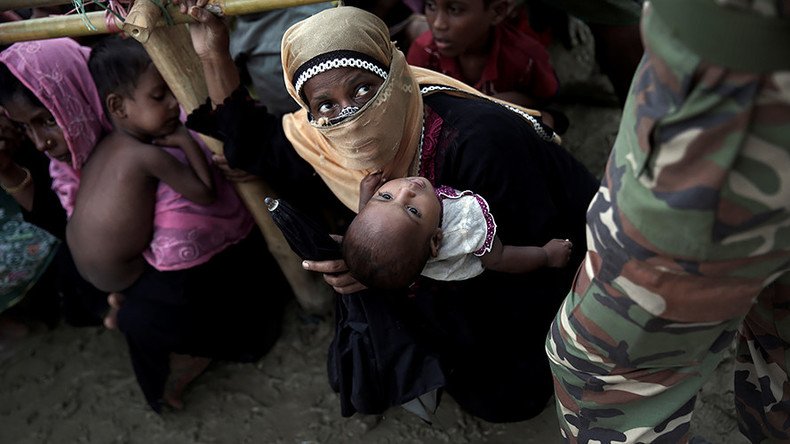 Over half a million Rohingya Muslim refugees have fled the violence in Rakhine State in Myanmar to Bangladesh in the past month, placing enormous strain on aid agencies and residents across the border alike.
Over 501,800 new arrivals have been recorded at Cox Bazar, Bangladesh since the latest outbreak of violence on August 25. The mass exodus prompted UN Secretary-General Antonio Guterres to describe it as the "world's fastest-developing refugee emergency... a humanitarian and human rights nightmare."
READ MORE: Rohingya ethnic cleansing visible from space – Amnesty (PHOTOS/SATELLITE IMAGES)
The vast majority of the Rohingya are still living in temporary shelter which is susceptible to flooding on an almost daily basis. The lack of adequate sanitation means the floodwaters regularly become contaminated with fecal matter which can rapidly spread water borne diseases such as a cholera.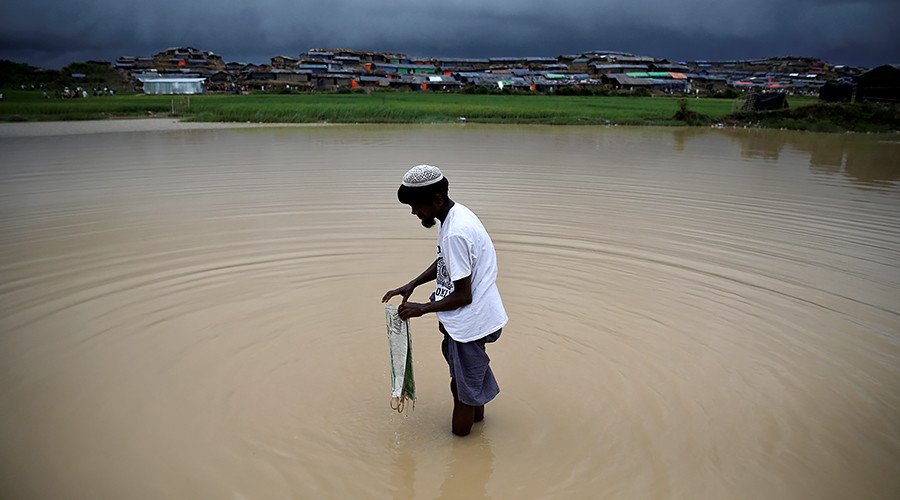 The Inter Sector Coordination Group (ISCG) is responsible for coordinating the emergency response effort in the region and states that 59 million liters of potable water are needed on a daily basis.
READ MORE: Widespread evidence of sexual violence against Rohingya refugees - UN medics
However, the reality is that aid agencies have only managed to provide approximately 1.5 million liters of drinking water on any given day according to the UN's migration agency, the IOM.
The unprecedented mass migration has placed enormous pressure on the local economy in Cox's Bazar.
"The price of rice has doubled since they came. The price of rickshaws has doubled. Vegetables, soap, you name it, and the price has gone up," Munwara Begum, a resident of Gundum in Bangladesh told the Washington Post.
Bangladesh has an extremely high population density for a country of its size – population 163 million with roughly 3,000 people per square mile. This is further exacerbated by monsoon-induced flooding each year.
Rohingya militants launched attacks in Rakhine state on August 25, provoking a fierce crackdown by the Myanmar military.
Hundreds of thousands have since fled into neighboring Bangladesh to escape what a senior UN official has called a "textbook example of ethnic cleansing," as reported by Reuters.
READ MORE: 400k+ sign pro-Rohingya petition to strip Suu Kyi of Nobel Prize
Buddhist-majority Myanmar has repeatedly rejected accusations of ethnic cleansing amid widespread condemnation by the international community and calls for the country's leader Aung San Suu Kyi to be stripped of her Nobel Prize. Suu Kyi, however, says she is doing her best to prevent human rights abuses, but has no authority over the army under Myanmar's military-drafted constitution.
You can share this story on social media: