Rohingya ethnic cleansing visible from space – Amnesty (PHOTOS/SATELLITE IMAGES)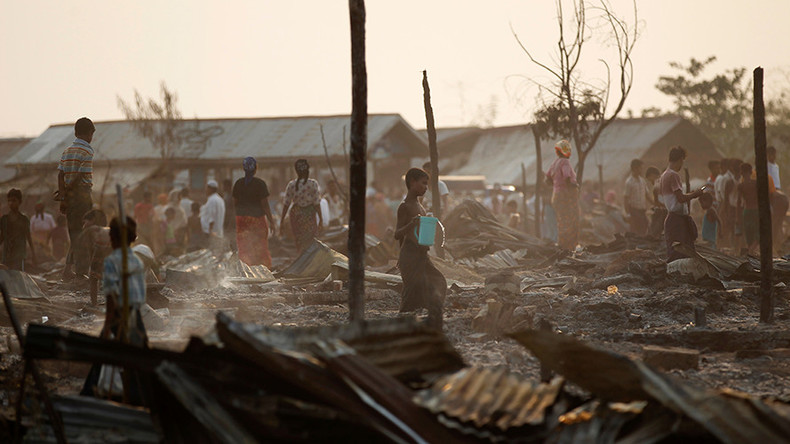 Amnesty International has released a series of satellite images it says demonstrates that Myanmar's military is carrying out a campaign of ethnic cleansing against the Rohingya Muslim population.
"The evidence is irrefutable – the Myanmar security forces are setting northern Rakhine State ablaze in a targeted campaign to push the Rohingya people out of Myanmar. Make no mistake: this is ethnic cleansing," said Tirana Hassan, Amnesty International's Crisis Response director in a statement.
"There is a clear and systematic pattern of abuse here. Security forces surround a village, shoot people fleeing in panic and then torch houses to the ground. In legal terms, these are crimes against humanity – systematic attacks and forcible deportation of civilians," Hassan added.
A total of 80 sites have been set ablaze since August 24, Amnesty reports.
More than 370,000 Rohingya have fled into Bangladesh over a period of three weeks since August 25, amid an "orchestrated campaign" by the military to flush out what it brands "terrorists" following attacks against police by the Arakan Rohingya Salvation Army (ARSA).
READ MORE: At least 5 police killed after Muslim insurgents storm 24 police posts & army base in Myanmar

The rights group also claims that a combination of Myanmar security forces and paramilitary groups are shooting people as they try to flee.
"The government's attempts to shift the blame to the Rohingya population are blatant lies. Our investigation makes it crystal clear that its own security forces, along with vigilante mobs, are responsible for burning Rohingya homes," Hassan continued.
Smoke from the fires and persistent cloud cover throughout the monsoon season have limited visibility for outside observers, but the heat-detecting satellite images are able to penetrate the obstruction.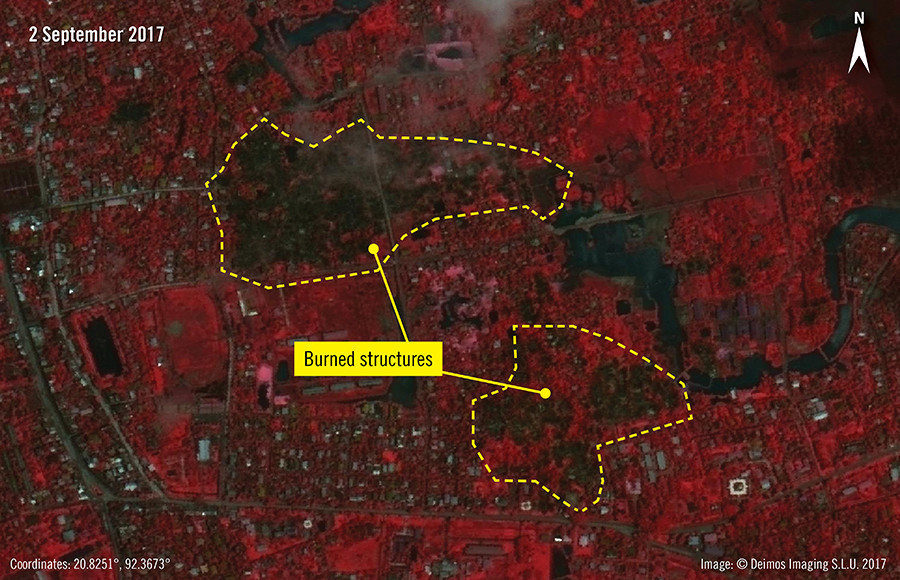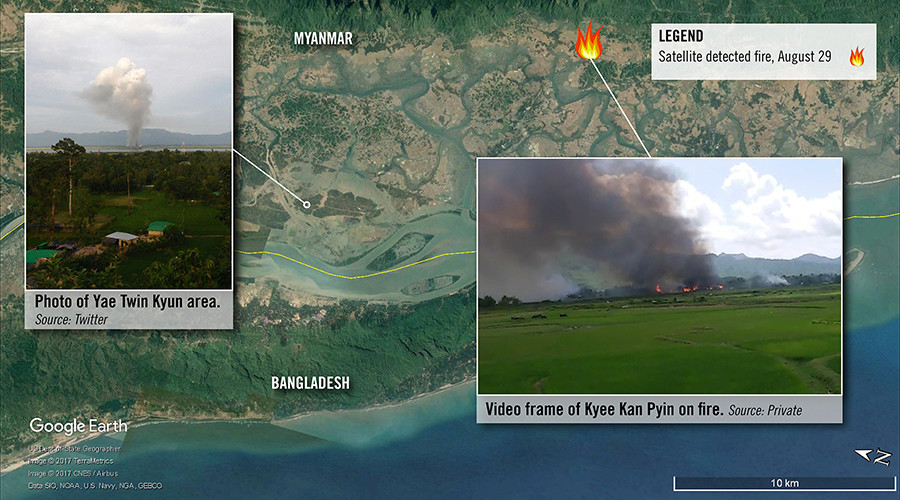 Images from the the mixed-ethnicity village of Inn Din purportedly show that Rohingya neighborhoods have been razed to the ground.
"When the military came, they started shooting at people who got very scared and started running. I saw the military shoot many people and kill two young boys. They used weapons to burn our houses. There used to be 900 houses in our village, now only 80 are left. There is no-one left to even bury the bodies," one unnamed 48-year-old survivor reportedly told Amnesty after his village Yae Twin Kyun was attacked on September 8.
The scale of destruction cannot be independently verified due to governmental restrictions on outside access to the area, claims Amnesty. Human Rights Watch has also released similar satellite imagery which corroborates Amnesty's findings.
"In a few days Myanmar will be discussed at the UN Human Rights Council," Hassan said.
"This is an opportunity for the world to show that it has grasped the scope of the ongoing crisis and adopt a strong resolution to reflect this. The Council must also extend the mandate of the international Fact Finding Mission, which the Myanmar authorities should offer their full cooperation to."