At least 5 police killed after Muslim insurgents storm 24 police posts & army base in Myanmar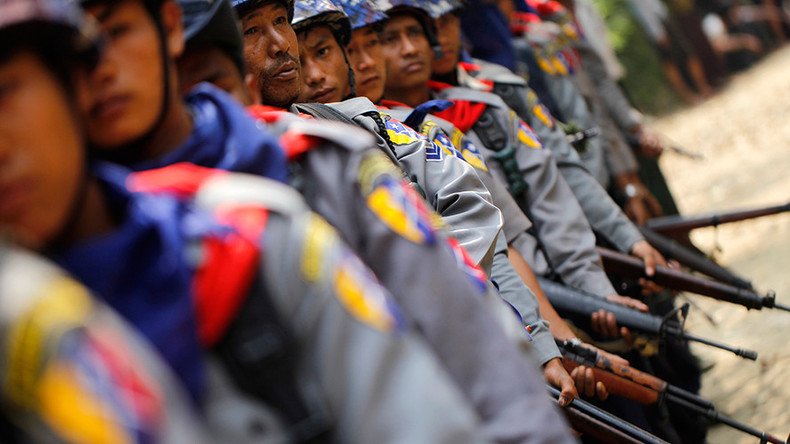 Five policemen and seven Rohingya Muslim militants are preliminarily reported to have been killed in a large series of attacks on 24 police posts and an army base in the troubled northwest Myanmar state of Rakhine.
The militants mounted 24 coordinated assaults on police posts throughout the western state and tried to break into an army base, according to reports cited by Reuters.
#Myanmar says 5 police officers killed, 7 militants dead, 2 guns stolen. Said attacks timed to coincide with #Rakhine Comm report release

— May Wong (@MayWongCNA) August 25, 2017
The incident is the latest in an escalating wave of violence between government forces and the Muslim Rohingya minority in the southeast Asian country. A similar attack in October, in which nine police officers were killed, prompted a severe government response that was highly criticized for its alleged human rights abuses, rapes, extrajudicial killings and other atrocities.
As a result of the military's counter-operation, some 87,000 Rohingya fled into nearby Bangladesh while their villages were razed to the ground. The Myanmar government has dismissed a UN report released in February that documented the atrocities, despite it being based on the testimony of over 200 witnesses.
"The initial information is that at least five policemen were killed, two guns have been taken [from the police] and seven dead bodies of extremist Bengali insurgents have been seized," a government statement said, the term "Bengali" being a derogatory reference to the Rohingya.
In one of the attacks, 150 rebels tried to break into an army base while in another, a homemade bomb was used.
The government statement added: "The extremist Bengali insurgents attacked a police station in Maungdaw region in northern Rakhine state with a handmade bomb explosive and held coordinated attacks on several police posts at 1a.m."
Friday's attack came a day after the release of the final report of the Advisory Commission headed by former UN Secretary-General Kofi Annan into religious and ethnically-driven conflict in Myanmar, which warned that radicalization among Rohingya Muslims was possible if the situation deteriorated.
Hundreds of extra troops were deployed to the area earlier in August to quell the insurgency and reduce inter-communal tensions between Rohingya and Buddhists in the region.
The Rohingya insurgency is one of the inter-ethnic conflicts in Myanmar that quickly escalated around the time the country won its independence from Britain in 1948. The original radical Muslim insurgency that began in 1947 had the goal of seceding part of Rakhine with the help of East Pakistan, which is present-day Bangladesh. The failed mujahedeen uprising was followed by several waves of insurgency over the years, led by groups such as RLP, RSO, ARNO, and, presently, ARSA, AA and others, with militants often hiding in jungles and believed to be training across the border in Bangladesh.
While some of the conflicts have been driven by the lucrative opium trade, Rohingya also stand out as an alienated Muslim minority in the overwhelmingly Buddhist country. The Rohingya have been facing discrimination, having no citizenship and very few rights as the government considers them illegal immigrants from Bangladesh despite claims of centuries-long heritage. The persecution of the Rohingya is sometimes referred to as "Rohingya genocide" in the media. However, the term is not internationally accepted and has been outright rejected by Myanmar. In February, a report by the Office of the UN High Commissioner for Human Rights (OHCHR) said violence against Rohingya "could amount to crimes against humanity."
The situation in #Rakhine is becoming more precarious. My hope now is that all concerned will follow through on recommendations w/out delay.

— Kofi Annan (@KofiAnnan) August 24, 2017
You can share this story on social media: