Facts vs hysteria: What you need to know about Zapad 2017 drills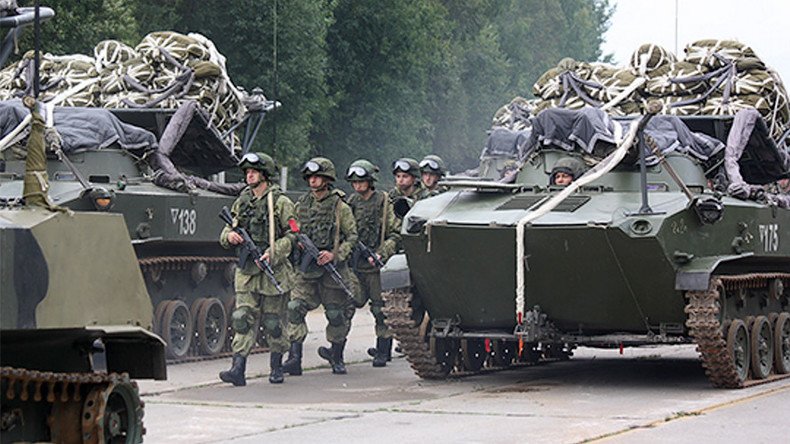 The joint Russia-Belarus Zapad 2017 military exercises have kicked off amid ongoing hysteria from western officials and media over their nature, numbers and purpose. RT sums up several facts you need to know to draw your own conclusions.

The Zapad 2017 international strategic military exercises take place from September 14-20 in Belarus and three regions in the western part of Russia. The drills are held by Russia and Belarus every few years (the most recent drills were held in 2009 and 2013), with their timing announced months ahead. However, this year the maneuvers have become the subject of media hype and huge scrutiny by NATO amid further Russia scaremongering.
Moscow believes that "the wave of whipping up passions" around the drill is a provocation, according to Kremlin spokesman Dmitry Peskov.
READ MORE: Biggest war games kick off in Sweden to practice deterrent skills against Russia (VIDEOS)
"Everything is carried out in strict accordance with international law and relevant regulations," he said Thursday, adding that Russian President Vladimir Putin may also attend the exercises.
The number of troops & equipment
The exercises involve up to 12,700 troops, a majority of which – 7,200 – are from Belarus, and the other 5,500 from Russia, according to official data from Russia's Defense Ministry. Some 70 aircraft and 680 land vehicles, including 250 tanks, are also participating in the maneuvers.
Despite Moscow and Minsk repeatedly announcing the official numbers of personnel involved, some politicians have speculated over the figures, exaggerating them a dozen times over. German Defense Minister Ursula von der Leyen claimed that the upcoming drills would involve over 100,000 troops on the eastern periphery of NATO, showing a "demonstration of capabilities and power of the Russians." The Russian military were "astonished" by those "baseless figures," Russian Defense Ministry spokesman Major-General Igor Konashenkov said in a statement last Saturday.
In early September, Aleksandr Turchinov, the Secretary of the Ukrainian National Security and Defense Council, came up with even more impressive estimates, saying that Zapad will involve around 240,000 troops as well as 10,000 pieces of military equipment and 100 aircraft, what contradicts any official data.
Drills are purely defensive
The Zapad 2017 drills have been designed to test the operational compatibility of the Russian and Belarusian military forces and to practice anti-terrorist operations. According to the drills scenario, extremist groups supported with arms and supplies from outside have penetrated to Belarus and Russia's Kaliningrad Region to carry out terrorist attacks.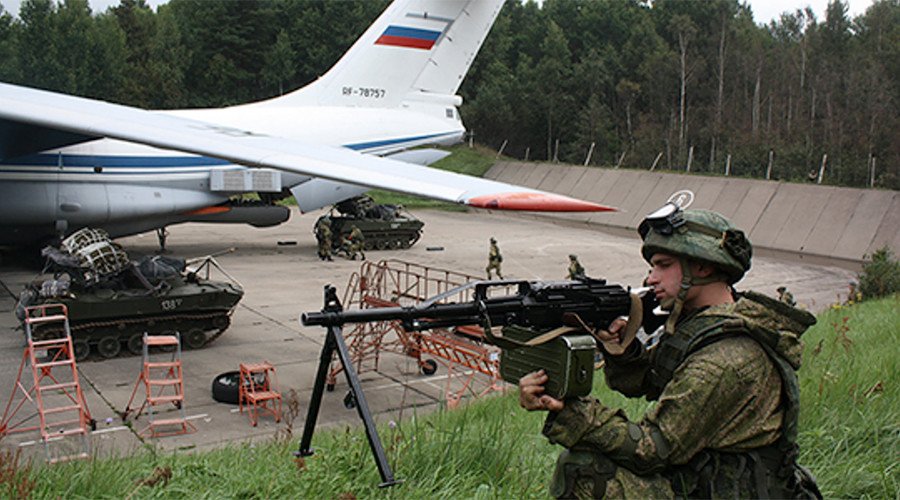 Moscow has repeatedly stressed that the maneuvers are purely defensive in nature and said that the imaginary aggressor does not refer to any particular nation state.
However, many have turned a deaf ear to Russia's statements. In the run-up to the exercises, Lithuanian President Dalia Grybauskaite branded them "aggressive games directed against the West." In July, Lieutenant-General Ben Hodges, commander of US Army forces in Europe, referred to exercises as a "Trojan horse," noting there were suspicions they could be used to move forces and equipment closer to NATO's eastern flank.
"I would like to emphasize that apart from its anti-terrorist components, the Zapad-2017 exercise is of a purely defensive character," Lieutenant-General Aleksandr Fomin stated in August. He also blasted as a "myth" any allegations that they could be used as a basis to invade neighboring countries.
Russia & Belarus invited 'anyone who wants to attend'
Speculation that the Zapad 2017 exercises are much larger than Russia has announced led to calls for more transparency. Despite the number of troops deployed under the drills not exceeding the threshold for mandatory monitoring stated in the 2011 Vienna document, Belarus has invited international monitors from various foreign countries to observe the active phase of the drills.
"We are not planning to attack anyone. In terms of what the drills will be like – we've invited almost anyone who wants to attend. Let them come and watch," Belarusian President Aleksandr Lukashenko stated in September.
In July, Belarusian Defense Minister Andrey Ravkov, also stressed that international organizations, including the UN, NATO, and the OSCE, as well as more than 80 foreign observers, are invited to the drills since there is "nothing to conceal."
While the world's attention and criticism is focused on Zapad 2017, NATO and its allies have increased their military activity on Russia's borders. For example, Sweden is holding its largest war games in over two decades, which coincide with the Russia-Belarus drills. Apart from exceeding the number of troops participating in Zapad 2017 by several thousand, the maneuvers are aimed to prepare for a possible Russian attack.
Moreover, around 40,000 NATO troops and allied forces have taken part in various military drills in Europe this summer, according to Air Force Brigadier General John Healy, who directs the drills of US forces in Europe. Eighteen NATO exercises, including Noble Partner in Georgia, occurred in the Black Sea Region alone, close to the Russian border, in summer 2017.
READ MORE: US plans 'global' drills to counter Russia & other 'complex threats' – top US military official
At the same time Hungary, Romania and Bulgaria joined separate US-led Saber Guardian 2017, which took place this summer. Around 25,000 service members from 22 allied and partner nations were involved in the drills, making them the largest of the 18 Black Sea region exercises this year.
Earlier, Ukraine hosted the US-led Sea Breeze 17 naval drills, involving around 2,500 troops and more than 30 ships from 17 participating countries.
You can share this story on social media: