'Trojan horse': Top US commander in Europe says Russia might use Belarus drills to move weapons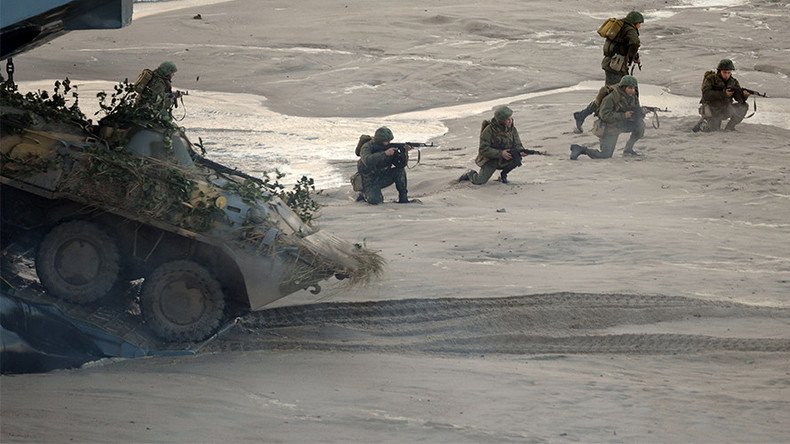 The top US general in Europe has speculated that the upcoming Russia-Belarus drills could be a "Trojan horse" exceeding their planned scale. Minsk and Moscow refute the claims and point to the ongoing NATO build-up and eastward expansion.
"People are worried, this is a Trojan horse. They say, 'We're just doing an exercise,' and then all of a sudden they've moved all these people and capabilities somewhere," Lieutenant-General Ben Hodges, commander of US Army forces in Europe, told Reuters on Thursday.
Hodges was referring to the Zapad 2017 exercises involving Russian and Belarus troops, which is to take place in Belarus in September. While acknowledging that there are no indications that Russia has any plans beyond the drills, he repeated his previous call on Moscow to be more open to calm NATO allies.
Such allegations are aimed to "artificially justify" the NATO military build-up around Russia, Russian Deputy Foreign Minister Grigory Karasin told Interfax.
Hodges was not the first to express concern over the drills. On Thursday, Polish Ambassador to the US Piotr Wilczek claimed the maneuvers are potentially dangerous for Ukraine and other countries. The Baltic states seem to be especially agitated, with Estonia planning to host more US and other allied troops in light of the drills. Earlier, Lithuania issued a report claiming that Zapad 2017 may result in a provocation against the country.
READ MORE: US moves Patriot missiles near Russian borders in 1st Baltic deployment
On Wednesday, Russian Envoy to NATO Alexander Grushko said that emerging "propaganda stories" on Zapad 2017 and its demonization is caused by the NATO military build-up on the eastern flank, Politico reports the envoy as saying.
READ MORE: Russia allays fears over Belarus drill after Lithuanian 'hysteria'
"If NATO countries are really concerned about the unstable situation in the region, then firstly what they need to do is to curtail their own military activities, which are groundless and contradict the real security needs," Grushko said.
Moscow and Minsk have repeatedly refuted speculation surrounding the planned war games. The joint exercises pose no threat to any other country and are defensive in nature, according to Belarusian Defense Minister Andrei Ravkov, who spoke to TASS on Monday.
Recalling the 2016 NATO war games in Europe, Ravkov said that it is not the alliance which should be concerned. Zapad 2017 is far less massive than the Anaconda drills in Poland, as it involves around 12,700 troops alongside 680 pieces of weaponry, compared to the more than 30,000 service members from NATO states and their allies with 3,000 munitions involved in last year's drills.
"While Anaconda 2016 has not caused hysteria among us, we were receptive to the past exercise," despite the fact that it had an "obvious hostile nature," the defense minister said. He also stressed that international organizations, including the UN, NATO, and the OSCE, as well as more than 80 foreign observers, are invited to the drills since there is "nothing to conceal."
In June, the Russian ambassador in Minsk reiterated assurances that the exercises pose no threat to any of the country's neighbors amid what he called "unhealthy speculation" surrounding it.
You can share this story on social media: