NATO can 'deter' Russia, Romanian president says amid drills in E. Europe (VIDEO)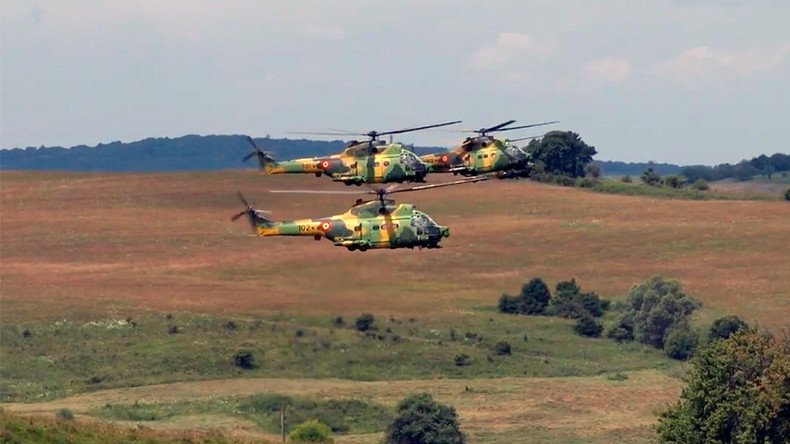 NATO forces are able to deter Russia and they already do so by holding exercises in eastern Europe, Romanian President Klaus Iohannis said as he visited the site of drills staged by NATO and several partner countries in Romania.
The drills are "living proof of the fact that our soldiers do not only talk to each other, they are able when it is necessary to fight together," Iohannis told journalists on Friday as quoted by Ruptly news agency. The leader visited the Cincu shooting range in northwest Romania, where military exercises staged by NATO and partner countries are taking place.
Asked whether the NATO troops would be able to deter Russia, the president said: "Of course they could. I think they do."
The US ambassador to Romania, Hans Klemm, also praised the performance of NATO forces, particularly that of the Romanian soldiers. "With some support from the US Army, what we saw today was just a tremendous display of capability by the Romanian Army and Navy," he told journalists.
Around 5,000 soldiers from both NATO and its partners, including Ukraine and Armenia, are taking part in the exercises in Romania, observed by Iohannis and NATO Military Committee head General Petr Pavel, who is on a two-day visit to Romania.
The large-scale drills also involved the use of tanks, more than 650 infantry fighting vehicles, as well as military aircraft, and US and Romanian attack helicopters, according to Stars and Stripes.
The drills are a part of a larger exercise called 'Saber Guardian,' which is led by the US Army Europe and is set to wrap up on July 20. The war games, taking place in Romania as well as in Hungary and Bulgaria, involve 25,000 military personnel from more than 20 NATO and partner countries.
The exercises will feature a total of 18 specialized drills, including an air defense artillery live fire exercise, field training and live fire exercises, multiple river crossings and a mass casualty exercise. Saber Guardian drills have been staged annually since 2013 in the Black Sea region.
The goal of the drills is to increase the troops' cooperation level and to show readiness to provide security in the Black Sea region. The exercise was also staged to ensure that NATO troops are able to fight against more technologically advanced forces, the deputy chief of staff of the US Army Europe, General James McConville, told Stars and Stripes, although he did not mention any specific adversary.
"We saw combined operations. And for some types of adversaries that's a good capability to have," he said, commenting on the exercises.
"Deterrence is about capabilities, it's about making sure that any potential adversary knows that we are prepared to whatever is necessary," Lieutenant General Benjamin Hodges, the commander of US Army Europe, told journalists at the Cincu shooting range, Ruptly reports.
He noted that NATO is willing to "leave the door open" for Russia to "come back into the Global Community." He went on to say that the alliance should "stay strong" to give NATO the "best chance" to make Russia "come through that door."
According to Hodges, it is crucial since "the Russians only respect strength, so if we demonstrate cohesion, if we demonstrate that we are together, that we are prepared, then I think we don't have to worry..."
Russia has repeatedly stated that NATO's increased military presence in eastern Europe undermines stability in the region and leads only to an erosion of the global security system. In late June, Russian Defense Minister Sergey Shoigu said that the Alliance's provocative actions "raise mutual suspicions and push us [Russia] to undertake retaliatory measures, mainly in the western strategic direction."
On July 13, the Russian permanent representative to NATO, Aleksandr Grushko, said that NATO activities in eastern Europe "not only ensure a reinforced military presence of the allies in the immediate vicinity of Russia's borders but in fact represent an intensive mastering of the potential theater of military operations."
You can share this story on social media: