'NATO is mastering potential military theater in Eastern Europe' – Russian envoy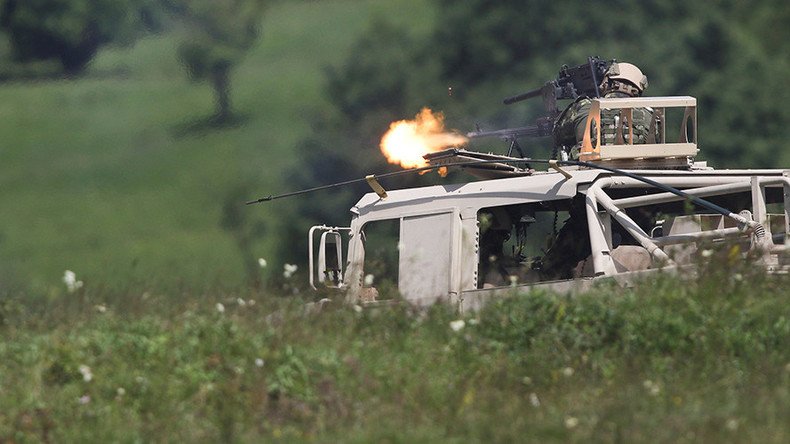 "Scares and speculations" surrounding Russian military drills are a smokescreen for NATO's military buildup in Eastern Europe, where the alliance is effectively mastering a potential new battlefield, the Russian permanent representative to NATO says.
"We pointed out that while a lot of insinuations, completely unjustified from our point of view, are being spread around the Zapad-2017 drills, NATO's funneling of arms and materiel into its eastern flank is going unnoticed," Russia's permanent representative to NATO, Aleksandr Grushko, told reporters following a meeting of the Russia-NATO council on Thursday.
"Speaking about solely military activities, NATO will hold some 15 drills complementing each other in the period between July and November, which are held in the same operative field and aimed at providing a vast range of support measures," Grushko added.
During the meeting, the sides exchanged information on upcoming military drills, including the joint Russian-Belarusian exercise Zapad-2017 and NATO's Trident exercises. The drills have already caused an hysteria in several countries neighboring Belarus, including Lithuania, as one of its spy agencies released a report alleging that the drills will be used as a cover-up for an invasion.
"The Russian Defense Ministry answered the NATO colleagues' request and today our military gave a detailed briefing on these drills, providing information on their goals and objectives, test grounds where the troops will be deployed, and on the forces and materiel employed – the numbers of troops and hardware," Grushko stated, adding that true de-escalation in Europe can be achieved only through resumed contacts between Russian and NATO militaries.
Booming NATO activities are a part of a broader strategy for "getting NATO's military infrastructure closer to our borders," Grushko said.
"It's clear for us that such activities not only ensure a reinforced military presence of the allies in the immediate vicinity of Russia's borders but in fact represent an intensive mastering of the potential theater of military operations, accompanied by the development of the necessary infrastructure."
"Growing NATO military presence in Eastern Europe undermines stability in the region. We state that it represents a strategy for getting NATO's military infrastructure closer to our borders," Grushko added. "Russia won't stay inactive and we will undertake necessary steps to boldly defend our interests."
Russia not an "imminent threat" – Stoltenberg
NATO Secretary General Jens Stoltenberg has also firmly denied the notion of the Zapad-2017 drills being used as a pretext for invasion, praising Russia for providing data on troops and hardware to participate and the upcoming drills.
"Every nation has right to exercise its forces, and that of course also goes for Russia, second we don't see any imminent threat against any NATO-allied country and third we will follow the Zapad-2017 exercise closely," Stoltenberg said.
The number of troops expected to take part in Zapad-2017 remains under the 2011 Vienna document threshold for a mandatory inspection, Stoltenberg said.
"Russia briefed on exercise Zapad-2017 including providing numbers on the total number of forces but also planes, ships participating in exercise and they also gave numbers for Russian troops and troops from Belarus separately," he added. "Then many allies asked questions and we had a discussion about the numbers, I think my message today is that it's too early to say because it remains to be seen because the exercises haven't yet taken place."
Ukraine and Afghanistan
Russia's and NATO's representatives have also discussed situation in eastern Ukraine and Afghanistan. While regarding Ukraine the two sides stressed the importance of the Minsk agreements and urged the warring parties to begin their implementation, the deteriorating situation in Afghanistan was perceived quite differently.
Stoltenberg stressed the importance of the ongoing Afghan reconciliation.
"The focus of meeting today was the importance of supporting an Afghan led and Afghan owned reconciliation process. I welcome the fact that president Ghani has initiated such a process," the NATO chief said.
Russia, however, warned about possibility for violence and terrorism spilling from Afghanistan to neighboring countries of the region, and noted a "disheartening" situation with illegal drugs in the country.
"We continued to discuss Afghanistan. There, I guess, there's a joint understanding that allowing instability spillover from the country is unacceptable. The situation there is deteriorating, there's a threat of Afghanistan becoming a safe haven for terrorists, while Islamic State (IS formerly ISIS/ISIL) positions, unfortunately do not weaken," Grushko said.
You can share this story on social media: