'NATO buildup on Russian borders erodes global security' – Moscow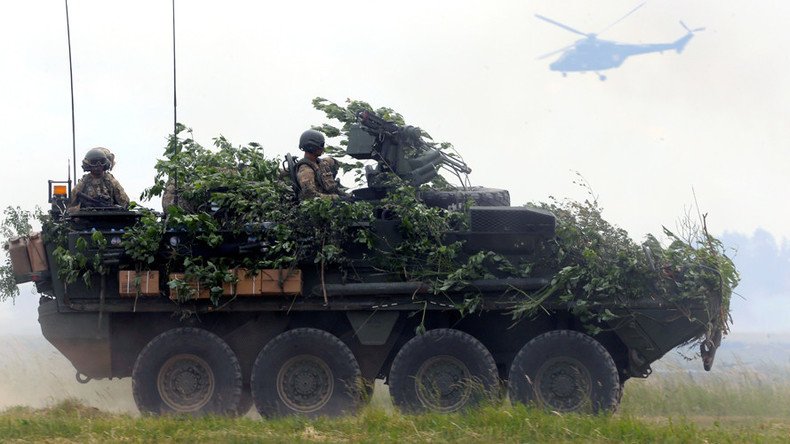 The growing NATO presence in the Baltic and Eastern Europe demonstrates "blatant unwillingness" of certain Western states to stop "pursuing an anti-Russian agenda" and forces Moscow to beef up its border defenses, according to Russia's defense minister.
The situation on Russia's western borders has a "tendency to deteriorate," Sergey Shoigu said during an on-site meeting of the Defense Ministry Collegium in Kaliningrad on Wednesday.
"It is related to the growing military activity of NATO countries in Eastern Europe," Shoigu said.
The NATO buildup includes the modernization of airfields, ports and other military sites, as well as the deployment of new elements of the US missile defense, the minister added.
Alongside the expansion of military infrastructure, the alliance is also bolstering its operative and combat readiness, according to Shoigu. The defense minister said this is demonstrated by the ongoing Baltops and Saber Strike military drills, which involve thousands of troops as well as dozens of military planes and ships.
"The ongoing developments clearly indicate blatant unwillingness of the Western partners to stop pursuing the anti-Russian agenda. The NATO summit in May also demonstrated that, when international terrorism and Russia were placed on the same list of threats," Shoigu said.
A number of countries are trying to use military measures complimented by "political, informational and economic pressure," to achieve geopolitical gains.
"Such unjustified actions of our Western colleagues lead to erosion of the global security system. [These actions] raise mutual suspicions and push us to undertake retaliatory measures, mainly in the western strategic direction," Shoigu added.
There have been over 100 unannounced checks in Russia's Western Military District, according to Shoigu, which demonstrated that the troops were ready for combat engagement.
The troops of the district have received over 300 pieces of combat vehicles and equipment over the past six months, and new military units are being deployed to bolster the defenses of Russia's western border.
"Over 30 battalion and company-level tactical groups are in constant combat readiness, they are fully staffed and equipped with all the necessary materiel pieces," Shoigu said.
In addition, some 20 new military units will be formed in the Western Military District by the end of 2018.
As NATO flexes its muscles close to Russia's borders, Moscow has started preparations for the upcoming joint strategic drills Zapad-2017 (West-2017), which will be held in Belarus later this year.
You can share this story on social media: