Power of Hurricane Irma changes color of Caribbean (SATELLITE IMAGES)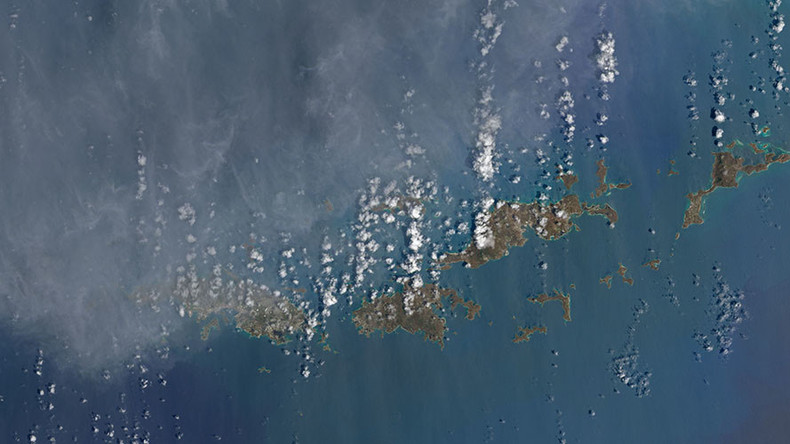 Hurricane Irma transformed the color of the Caribbean landscape when it barrelled through the islands as a powerful category five storm.
Satellite images, released by NASA, show the previously-lush green vegetation replaced with a muddy brown color.
Captured by the Operational Land Imager (OLI) on the Landsat 8 satellite, the natural color images show the extreme contrast in landscape before the storm, on August 25, and after the storm, on September 10.
The views are among the few relatively cloud-free satellite images of the area so far, according to NASA's Earth Observatory.
READ MORE: Paradise islands bowled over by Hurricane Irma (VIDEOS, PHOTOS)
There are a number of possible reasons for the browning of the land, according to scientists. The green tropical vegetation could have been ripped away by the storm's strong gales leaving the satellite with a view of more barren ground.
It's also feasible that salt spray whipped up by Irma could have coated and dessicated leaves while they were still on trees.
Meanwhile, close-up images of Virgin Gorda island reveal that some of the vegetation on the south and west of the island is greener. This is likely a result of hills shielding the area from the brunt of the winds, NASA said.

Differences in ocean color are also evident – rougher water surfaces scatter more light, appearing brighter.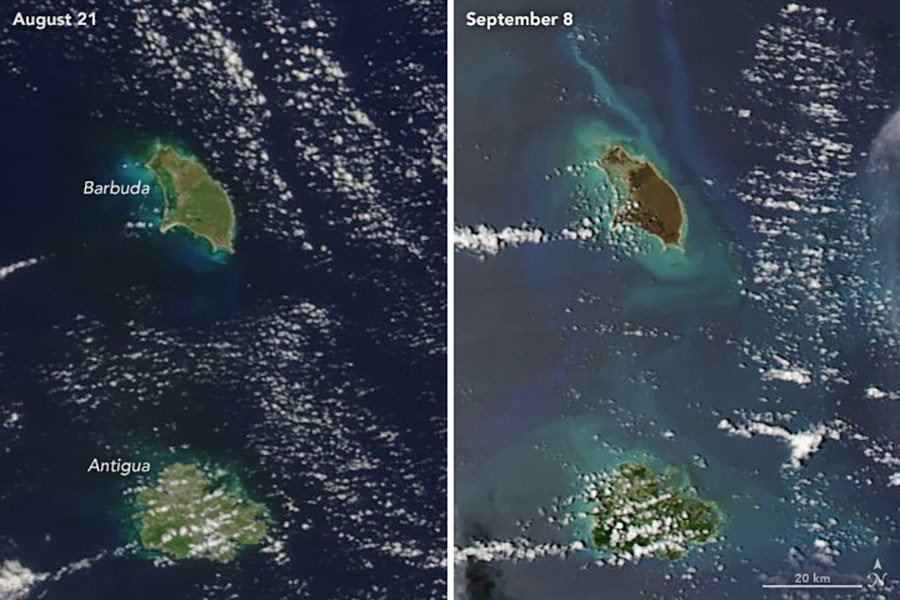 Comparing the brown vegetation of Barbuda with the greener Antigua, it's clear Barbuda was hardest-hit by the storm.
READ MORE: Richard Branson's private island 'completely devastated' by Hurricane Irma (PHOTOS, VIDEO)

Some 95 percent of the island's buildings are believed to have been destroyed, leaving almost all of the 1,600 inhabitants homeless.
Irma passed the north east Caribbean Islands on September 6 with maximum sustained winds of 185mph (295kph).
The entire Caribbean region saw at least 38 deaths as a result of Hurricane Irma.