Iran-style talks involving world powers may ease North Korea knot – Merkel
Published time: 10 Sep, 2017 10:02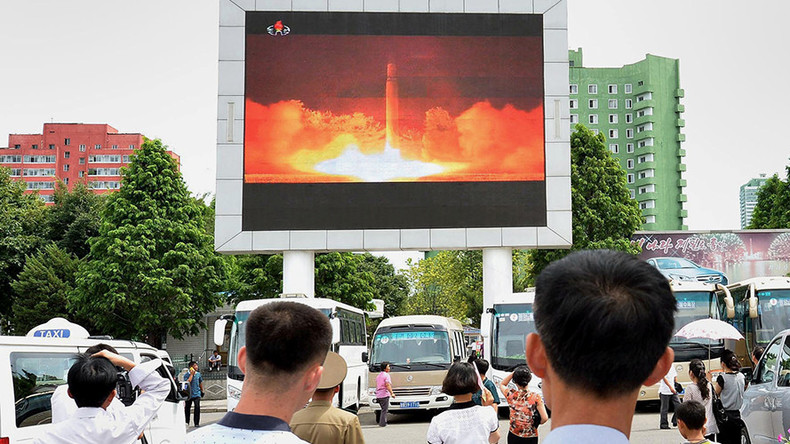 Direct multilateral talks with North Korea modeled on the landmark 2015 Iran deal may help cool tensions over Pyongyang's nuclear program, German Chancellor Angela Merkel said.
Speaking to the Frankfurter Allgemeine newspaper, Chancellor Merkel said comprehensive negotiations that led to the historic deal between Iran and all five permanent UN Security Council members plus Germany could be a model for resolving the North Korean crisis.
"If our participation in these talks is desired, I will immediately say yes," Merkel said.
While saying she "could imagine" that such a format would help the "settlement of the North Korea conflict," Merkel also noted that Europe and Germany "should be prepared to play a very active part in that."
Under the 2015 deal brokered by Iran and six major powers – Russia, the US, Britain, China, and France, plus Germany – Tehran agreed to redesign and reduce its nuclear activities in exchange for the lifting of economic embargoes.
In the interview, Merkel said it was "a long but important time of diplomacy" that eventually resulted in a "good end."
While advocating a diplomatic solution, she also said it is crucial to put pressure on North Korea so that the leadership in Pyongyang becomes more cooperative and willing to talk to the world community. Additional sanctions would be sufficient for Pyongyang to engage in negotiations, Merkel said.
Recently, tensions on the Korean Peninsula have escalated following a series of missile tests. The US and its regional allies have also ramped up military preparations, contributing to the flare-up in tensions. Last Sunday, Pyongyang said it had tested a hydrogen bomb, its most powerful weapon to date.
While condemning the test, Moscow also said that the actions of Washington and its regional ally are pushing North Korea to more aggressive steps. "The United States and South Korea are provoking Pyongyang by flexing military muscle and making repeated threats of intervention and pre-emptive strikes," Frants Klintsevich, deputy head of the Federation Council committee for defense and security, said.
Kim Young-jae, the minister of foreign economic relations of North Korea, recently said that the US is not interested in a peaceful solution and is "pursuing the only vile goal – war."
According to the German Foreign Office, there have been no high-level visits to North Korea by German government delegations or trips to Germany by North Koreans at the ministerial level. Both countries, however, share some trade and humanitarian ties.
Merkel reiterated her call for a peaceful solution while speaking to supporters on Friday. "It's a challenge for everyone – Europe, USA, Japan, China, Russia – to find a diplomatic solution," she said at the campaign rally, adding, "There is no military solution for the conflict regarding North Korea."
Next week, Merkel is expected to have telephone conversations with Russian President Vladimir Putin and Chinese leader Xi Jinping to discuss North Korea. Both leaders have repeatedly called for diplomatic efforts to ease tensions on the Korean Peninsula.
Last Sunday, Putin and Xi "expressed their deep concern over this situation," adding that the two leaders stressed the importance of "preventing chaos on the peninsula," according to the Kremlin.
Putin "called on the international community not to give in to emotions and to take a reasonable and balanced approach," it added.