US to 'pay dear price' for envoy Haley's claim N. Korea 'begs for war' – Pyongyang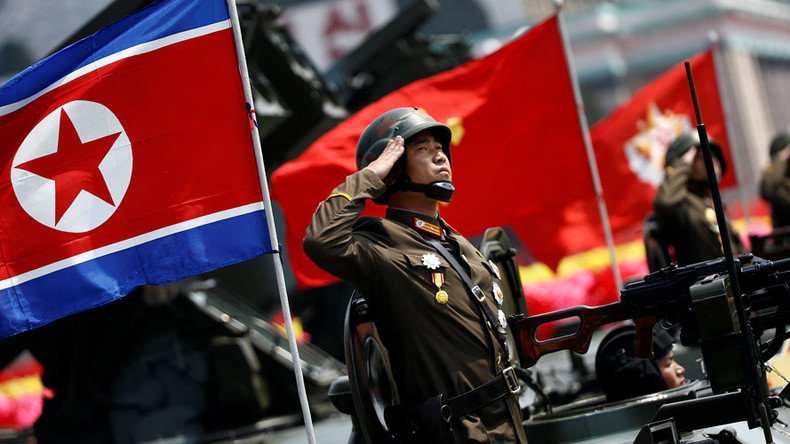 As tensions mount on the Korean Peninsula, a statement carried on North Korea's official KCNA news service warned that Washington's UN Ambassador Nikki Haley's remarks that Pyongyang was "begging for war" would not be left unanswered.
At an emergency UN Security Council meeting on Monday, Haley, the US ambassador to the UN, said that North Korea's persistent nuclear and missile testing could provoke the US into a conflict.
"His [Kim Jong-un's] abusive use of missiles and his nuclear threats show that he is begging for war," she said.
On Friday, a news broadcast from the official state-run Korean Central News Agency described Haley as a "political prostitute" whose "hysteric fit" would have dire consequences for the United States.
"Nikki should be careful with her tongue though she might be a blind fool," said the statement on KCNA. "The US administration will have to pay a dear price for her tongue-lashing."
Tensions on the Korean Peninsula have escalated over the past few months following a series of missile tests. The rhetoric and military maneuvers from the US and its allies have also escalated. On Sunday, Pyongyang reportedly tested a hydrogen bomb, its most powerful weapon to date, estimated to be over 10 times the size of the bombs dropped on Japan in 1945.
Despite the already tense situation on the Korean Peninsula, US President Donald Trump has waged a war of words with Pyongyang, threatening to unleash "fire and fury" in August if North Korea continued to threaten US territory, such as the Pacific island of Guam. In response, KCNA reported leader Kim Jong-Un as saying he would not launch an attack, instead preferring to "watch a little more the foolish and stupid conduct of the Yankees." The North Korean leadership did warn, however, that "if America persists in its "extremely dangerous reckless actions on the Korean Peninsula and in its vicinity, testing the self-restraint of the DPRK [Democratic People's Republic of Korea], the latter will make an important decision as it already declared."
READ MORE: 'Helping sense of unease': Japan runs anti-missile drills over N. Korea launches (VIDEO)
At the same time, the US has been deploying more military equipment into South Korea, such as the Terminal High Altitude Area Defense (THAAD) anti-ballistic missile defense system which has met with protests from both Russia and China, as well as the local population. On Thursday, clashes broke out between police and protesters in the South Korean province of Gyeongsangbuk, where locals fear the THAAD deployment will make them a target of the North Korean government.
The US has also been holding joint military drills with South Korea, holding their annual Ulchi-Freedom Guardian exercises in late August. The maneuvers involved 40,000 American and South Korean troops in land, air, and sea drills, despite ongoing tensions with Pyongyang.
Russia reacted to North Korea's hydrogen bomb test on Sunday by noting that through these military drills, the United States too has engaged in activity on the peninsula that could be considered provocative.
"The United States and South Korea are provoking Pyongyang by flexing military muscle and making repeated threats of intervention and pre-emptive strikes," Leonid Slutsky, head of the State Duma foreign affairs committee, told reporters.
To help end the crisis, Russia and China have proposed a double-freeze plan, which would see Pyongyang suspend its nuclear and ballistic missile tests in exchange for a halt in joint US-South Korea military drills. The US has rejected this proposal, saying that it has every right to conduct exercises with its ally, South Korea. The US has also demanded more sanctions, calling for Russia to stop shipping oil to North Korea. However, Moscow has rejected these calls, stressing that dialogue, not sanctions, is the only solution to the crisis.
"Pyongyang needs to be involved in dialogue, conditions must be created in which Pyongyang will feel secure, and that will allow us to search for solutions," Kremlin spokesman Dmitry Peskov told reporters in a conference call on Thursday.
You can share this story on social media: