'Helping sense of unease': Japan runs anti-missile drills over N. Korea launches (VIDEO)
Published time: 8 Sep, 2017 01:06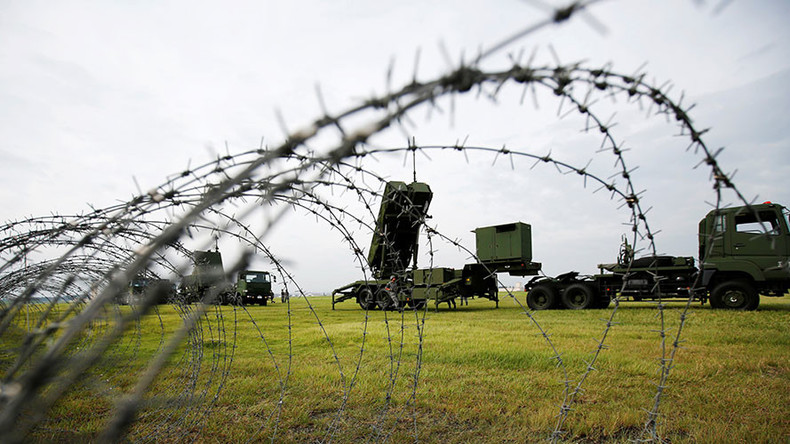 For the second time in its history, Japan has carried out a series of anti-missile drills at a US airbase in the northern Tohoku region, as tensions mount with North Korea's missile and nuclear weapons program.
A crew of thirty set up a Patriot Advanced Capability-3 (PAC-3) missile interceptor system capable of intercepting short- and medium-range missiles at Misawa Air Base, Aomori Prefecture, on Thursday. The aims of the exercise were to boost US-Japanese co-operation, and to ready the military for any potential attack by North Korea.
Citing "successful missile launch in North Korea," sub-base commander Yoshichika Kawahiro told RT's Ruptly video agency that the purpose of the drills was to improve the operation of interceptor missiles and tactics of the Air Self-Defense Force, as well as cooperation with the US Armed Forces.
"An additional reason why we are announcing the training of PAC-3 is to be able to help with the sense of unease among Japanese citizens."
According to Kawahiro, the PAC-3 set-up took about 20 minutes to complete.
This is just the second time that Japan has carried out missile interception drills. The first were held at the end of August at the Iwakuni airbase in Yamaguchi and the Yokota Air Base in western Tokyo, only hours before a North Korean missile passed over the northern island of Hokkaido.
Japan is on high alert after a series of North Korean missile and nuclear tests, including the one which passed over its territory. On Sunday, Pyongyang reportedly tested a hydrogen bomb, its most powerful weapon to date, estimated to be over ten times the size of the bombs dropped on Japan in 1945.
READ MORE: N. Koreans greet scientists working on H-bomb test with rally, fireworks (VIDEO)
So far, Japan is the only country to have had two atomic bombs detonate in its territory as an act of war. On August 6, 1945, an American B-29 bomber dropped the world's first deployed nuclear weapon over the city of Hiroshima, southern Japan, killing some 80,000 people and obliterating 90 percent of the city. This was followed three days later by another bomb dropped on the city of Nagasaki, which killed another 40,000 people. The US has justified the horrific civilian toll by saying the bombings led to Japan's surrender and the end of the Second World War.