S. Korea to deploy new THAAD launchers just 3 days after announcement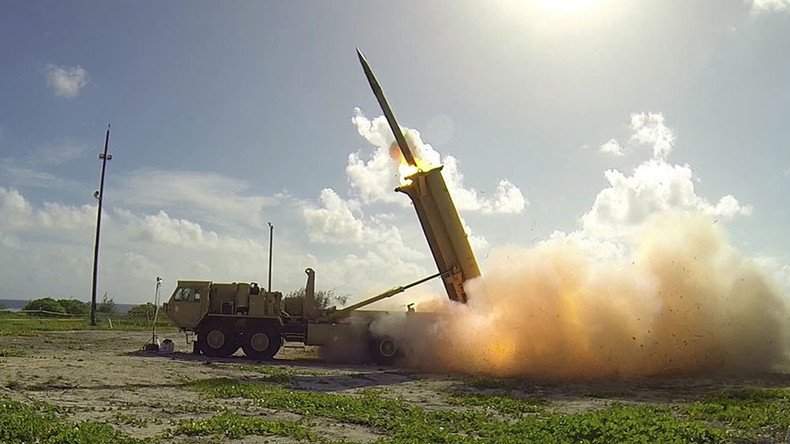 South Korea is moving swiftly to install four new Terminal High Altitude Area Defense (THAAD) rocket launchers on its territory. They will be installed this week, despite protests from residents who have cited numerous concerns over the missile defense system.
US Forces Korea (USFK) will deploy the launchers at its new base in Seongju, some 300 kilometers (186 miles) south of Seoul, on Thursday, according to the South Korean defense ministry, cited by Yonhap news agency.
The ministry stressed the urgent need to mobilize the launchers amid growing threats from North Korea, which had its sixth and most powerful nuclear test on Sunday.
Although the ministry did not provide an exact time for the installation, a residents' group cited by Yonhap said it had confirmed the plan "through various channels," adding that it was due to take place at 2am local time on Thursday.
Despite stressing the need for urgency, the ministry has said the move is "provisional," stating that an additional environmental impact assessment of the THAAD system is needed.
"There is no change in the government's position to make the final decision on whether the THAAD system will be deployed (in South Korea) after carrying out the general environmental impact assessment of the entire site thoroughly and fairly," the ministry said.
Many residents have expressed concerns that THAAD – which is designed to shoot down short- and intermediate-range ballistic missiles – will cause environmental and health problems for locals, due to its emission of electromagnetic waves. Others say the system will cause Seongju to become a prime target for North Korean attacks.
South Koreans have taken to the streets in recent months to protest the missile defense system, worried by the escalation of the current crisis on the Korean peninsula.
Thousands of demonstrators formed a human chain around the US embassy in Seoul in June, with protesters holding signs which read "Koreans hate THAAD" and "Yes to peace talks," as well as banners aimed at US President Donald Trump ahead of his visit to the country.
That same month, anti-THAAD activists had a tense standoff with police in Seongju over protesters attempting to stop and inspect vehicles which they suspected could be secretly delivering supplies for the missile defense system.
In May, a group of Seongju residents submitted a petition to South Korea's Constitutional Court demanding an immediate halt to any further operations and deployment elements of THAAD in their country.
Thousands of police will likely be deployed on Thursday to prevent additional clashes at the site, according to Yonhap.
The defense ministry's Wednesday announcement came just two days after it vowed to install the four additional launchers, saying they would "soon be tentatively deployed through South Korea-US consultations in order to counter North Korea's advancing nuclear and missile threats." There are currently two THAAD launchers in operation at the Seongju base.
The ministry also said on Monday that it would "push for the option of deploying strategic assets such as the US carrier strike group and strategic bombers after consultation with the US."
Meanwhile, North Korea shows no signs of ending its nuclear and ballistic missile tests, calling its recent nuclear test and other "self-defense" measures a "gift package" for the US, warning that others are on the way if Washington continues its "reckless provocations."
The Sunday nuclear test, which Pyongyang said involved a hydrogen bomb which can be mounted on an intercontinental ballistic missile (ICBM), prompted US President Donald Trump to respond by saying that Washington was considering cutting trade with countries which do business with Pyongyang.
The US is also expected to present a North Korean sanctions resolution at the UN, and is aiming for a vote to take place next week, AFP reported on Monday.
Meanwhile, Russian President Vladimir Putin warned on Wednesday that the North Korean nuclear crisis cannot be resolved by sanctions alone, and urged the international community not to push Pyongyang into a corner.
"It is clear that it is impossible to solve the problems of the Korean peninsula by sanctions and pressure alone," Putin said at the economic forum in Vladivostok, following talks with South Korean President Moon Jae-In.
"One shouldn't give in to emotions and drive North Korea into a corner," he continued, adding that all parties need to show composure and avoid "steps that lead to an escalation of tension."
"Without political and diplomatic tools, it is very difficult to shift the situation" on the Korean peninsula, Putin said.
To be more precise, I think it is altogether impossible," he added.
Russia and China have proposed a 'double-freeze' plan which would see Pyongyang suspend its nuclear and ballistic missile tests in exchange for a halt in joint US-South Korea military drills.
"We call on all interested parties to take a closer look at this initiative which, in our view, offers a realistic way to reduce tensions and gradually approach a settlement," Putin said on Wednesday.
However, the plan - which China has also urged all parties to "seriously consider" - was previously rejected by Washington, with State Department spokesperson Heather Nauert stating last month that the US is "allowed" to conduct exercises with its ally and "that's just not going to change."
You can share this story on social media: