S. Korea to install another 4 THAAD launchers, mulls deploying aircraft carrier & strategic bombers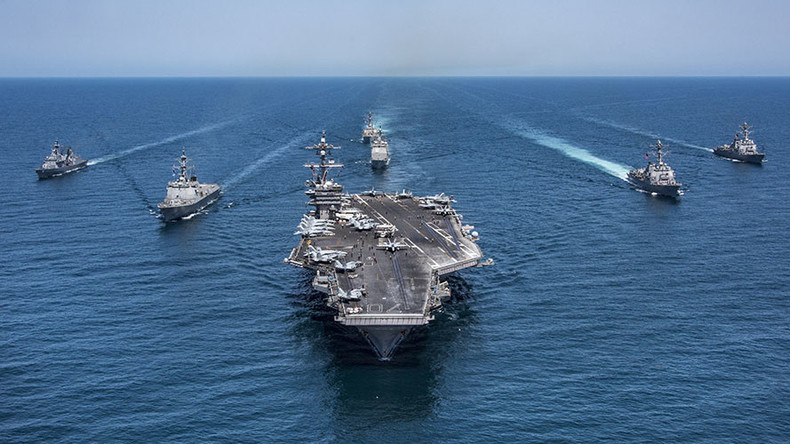 South Korea and the US are discussing deployment of an aircraft carrier and strategic bombers, South Korean Yonhap news agency reported, citing the country's defense ministry. The agency added that Seoul had detected "indications" that Pyongyang is preparing a ballistic missile launch.
A nuclear-powered aircraft carrier, strategic bombers and "other powerful assets"can be deployed to the Korean Peninsula as a response to North Korea's latest nuclear test, Seoul's defense ministry said on Monday.
"We will push for the option of deploying strategic assets such as the US carrier strike group and strategic bombers after consultation with the US," the ministry said.
The ministry also said that it was planning construction of additional facilities at the existing launch site of Terminal High Altitude Area Defense (THAAD), a US anti-ballistic missile defense system which is intended to shoot down short- and intermediate-range ballistic missiles.
The US Forces Korea (USFK) will install another four THAAD launchers at the converted golf course in Seongju County, some 300 kilometers south of Seoul, the ministry said. There are currently two THAAD launchers in operation there, while four others are ready for deployment, the ministry added.
"The remaining launchers will soon be tentatively deployed through South Korea-U.S. consultations in order to counter North Korea's advancing nuclear and missile threats," the statement said.
South Korea will also stage a unilateral live-fire drill, using its F-15 K fighter jets armed with Taurus air-to-surface missiles, in September, Seoul's defense ministry said in its report to the National Assembly's defense committee.
Defense Minister Song Young-moo alleged that Pyongyang had reduced the weight of its nuclear warhead to below 500 kilograms.
"Yes, we presume so…The smaller it becomes, the better it gets," he added.
On Sunday, North Korean state media reported that Pyongyang had successfully tested a hydrogen bomb which can be mounted on an Intercontinental Ballistic Missile (ICBM).
READ MORE: S. Korea holds ballistic missile drill in response to Pyongyang's nuclear test (VIDEO)
The test followed Pyongyang's claims that it has developed a new, more advanced warhead that is small enough to be fitted on an ICBM.
The bomb test was a "perfect success" and a "meaningful" step towards completing the North's nuclear weapons program, state television reported.
Russian President Vladimir Putin and his Chinese counterpart, Xi Jinping agreed on Sunday, ahead of the BRICS summit, that it is important to prevent "chaos" on the Korean Peninsula and called for a diplomatic solution to the crisis.
The Russian president's spokesman Dmitry Peskov said that both Putin and Xi had "expressed their deep concern over this situation," adding that the two leaders stressed the importance of "preventing chaos on the [Korean] peninsula" as well as the "importance for all sides to show restraint and focus on seeking a resolution [of the crisis] solely in a political and diplomatic way."
Meanwhile, British Prime Minister Theresa May said that the North's latest test "poses an unacceptable further threat to the international community" and urged the UN Security Council to look at imposing new sanctions on North Korea.
German Chancellor Angela Merkel and French President Emmanuel Macron jointly condemned the test and called for tougher sanctions against Pyongyang, while Japanese Chief Cabinet Secretary Yoshihide Suga suggested including restrictions on oil trade with North Korea in the list of new sanctions.
On Sunday, the Russian Foreign Ministry urged all parties to "return to dialogue and negotiations," including in "the context of implementing the Russia-China roadmap."
Russia believes that the situation around North Korea has dangerously escalated, Russian Deputy Foreign Minister Sergey Ryabkov said.
"There should be no place for escalation [of the crisis]. Those who are stronger and cleverer should exercise restraint. Any careless step in the current situation may lead to an explosion – a political or a military explosion – not the nuclear test that was carried out [by North Korea] and which reflects the tendency for the crisis deepening in north-east Asia," he said.
In one of his latest statements on North Korea, Trump vowed to use the "full range" of capabilities at his country's disposal and might resort to using its nuclear arsenal against North Korea if it continues to threaten Washington or its allies.
Earlier, Moscow and Beijing suggested a joint initiative to avoid an armed conflict on the peninsula. The roadmap envisions a suspension of all nuclear and missile tests from North Korea in exchange for a freeze of US-South Korea drills in the region. However, the proposal was firmly rejected by Washington.
In the meantime, the 'war of words' between the US and the North may turn into a heated conflict at any time. While the US and its allies say Pyongyang violated its international obligations with the missile and nuclear tests, North Korea slammed Washington's military build-up in the region – in particular, the joint US-South Korea Ulchi Freedom Guardian drills, which took place in late August.
In a series of tweets on Sunday, Trump branded North Korea a "rogue nation and a threat." The latest development in Pyongyang's nuclear capabilities are "very hostile and dangerous to the United States," the president said.